The First Press Conference of Krystsina Tsimanouskaya Was Held in Warsaw
25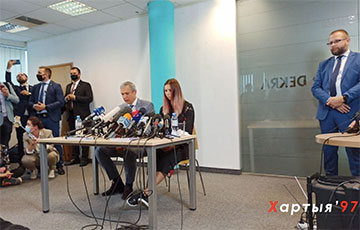 The athlete answered questions from journalists.
Belarusian athlete Krystsina Tsimanouskaya, whom the Lukashists tried to expel from Tokyo, arrived in Warsaw yesterday. The athlete held a large press conference for the media.
As a reminder, the sports functionaries brought the Belarusian athlete to the airport and tried to board the flight Tokyo - Istanbul, but the athlete refused to fly away. She turned to the International Olympic Committee for help. In the video posted, the athlete says that she was under pressure and that they tried to take her out of Japan without her consent.
On the eve of this situation, the athlete criticized the leadership of the national team for declaring her for the relay race 4 x 400 meters, while the athlete had already been declared at a distance of 100 and 200 meters. After that, the runner was condemned in the pro-government telegram channels and on Belarusian television.
As a result, the athlete stayed in Tokyo. She stated that she intends to apply for asylum in one of the European countries. The IOC said that Tsimanouskaya was safe and promised to look into the situation.
Poland issued a humanitarian visa to Krystsina Tsimanouskaya.
Krystsina Tsimanouskaya is the champion of Belarus in the 100 and 200 meters, the winner of the 2019 Universiade in the 200 meters, the silver medalist of the II European Games in the 100 meters.