Lukashenka Didn't Seem To Look Well At Meeting With Putin
95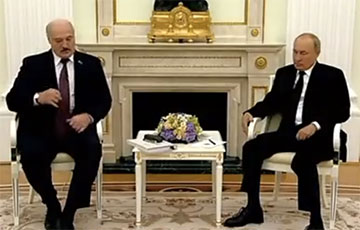 Video Fact.
The Russian TV channel of Dozhd has released video of the first minutes of the meeting between Putin and Lukashenka. A lot of viewers noted that the Belarusian dictator did not look very healthy.
We remind that recently, more and more often there has been information in the media about the health problems of the illegitimate ruler of Belarus, Lukashenka.
In July, a number of independent media and numerous telegram channels reported that Lukashenka felt unwell at the "Slavonic Bazaar" in Vitsebsk and urgently flew to Minsk.
Later, some telegram channels and media clarified the circumstances of Lukashenka's urgent evacuation from Vitebsk: the dictator really felt bad, most likely because of the heat his blood pressure went up. According to one version, he was evacuated from Vitsebsk by helicopter, while according to another - by private plane.
The Real Belarus telegram channel also noticed that one of the last photos of the usurper was taken during an interview with an Arab publication: the picture shows signs (lack of full ambilateral facial expression, typical for a stroke).