KGB Agents Accused Andrei Sharenda Of "Terrorism" And Called Him To Return To Belarus
17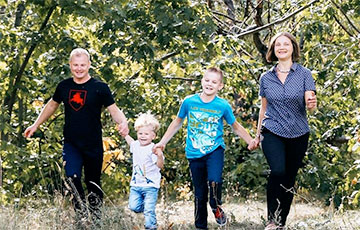 Searches have been carried out in the apartments of the relatives of the European Belarus activist.
Activist of the European Belarus civil campaign Andrei Sharenda, who left Belarus in July, has written that yesterday searches were carried out by the KGB in his apartment, the house of his parents and mother-in-law:
"Yesterday, KGB officers searched my apartment, my parents' house and my mother-in-law's house all at once in Brest. The KGB agents also came to my brother's workplace. All my relatives were interrogated in the new criminal cases that had been initiated against me. I am a suspect under several new articles. And under one of them ("terrorism"), the junta is threatening me with execution.
And at that, the KGB officers were insisting that my mother should ask me to write a "petition for mercy". They said: "This is the year of national unity, and Polina and I will be amnestied at once, and they will live happily ever after. All we need is just a small thing: for your son to return to Belarus and come to us and sign some papers. We won't even detain him!"
And I have a simple answer: yes, indeed, I will come back soon! But by that time you, the dictator's lackeys, will already be asking for mercy. All your names are known, and you will have to answer for everything.
Friends, don't stop! Let's get ready for strikes, let's make partisan raids, let's enforce sanctions and let's help the families of political prisoners! Let's win! Long live Belarus!"