Former Chief Prosecutor of Vitsebsk Arrested
32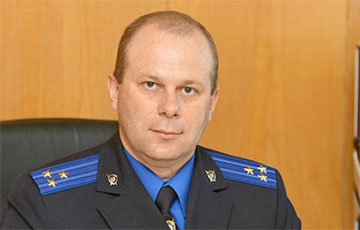 The reshuffles in the Vitsebsk law enforcement agencies are taking place against the backdrop of a scandal.
Yesterday it became known about the appointment of a new head of the USK in the Vitsebsk region. He is Aliaksandr Hutsko, who was previously the deputy head of the USC in the Homel region, writes nn.by.
The former head of the USK in the Vitsebsk region, Major General of Justice Pavel Ihnatau, was dismissed from service for health reasons.
This is a kind of general's "life hack" since the retirement for the major general is set at the age of 55, which Ihnatau has not yet reached. However, after a medical commission, you can receive a general's pension without adjusting for age.
One would think that this is how the new chief, Dmitry Gora, eliminates people from the Interior Ministry and appoints prosecutors who are close to him.
However, as the newspaper has learned, all these reshuffles are taking place against the backdrop of a huge scandal.
The recent prosecutor of Vitsebsk, Yury Ramanouski, is being held behind bars in Minsk on corruption charges. Together with him, another employee of the Vitebsk prosecutor's office and one investigator were detained in 2021.
As is known from the sources of the publication, in 2020, Yury Ramanouski distinguished himself in awarding subordinates for supporting political accusations.
His career ended swiftly. Friends of the ex-prosecutor allegedly shot an elk, which was not allowed to be killed in those circumstances. And Ramanouski not only did not initiate a criminal case but allegedly ate that elk with them, which eventually became known to the high authorities in Minsk.
According to our information, Ramanouski was found to be in a state that couldn't be called working, so he was fired. A few months later he was detained.
Also, our sources add that the connection between Ramanouski and one of the employees of the regional USK has been revealed. We do not know the details of this connection, but both of them are now familiarizing themselves with their cases in the Minsk detention center.
At the same time, the head of the department of the Vitsebsk Regional Prosecutor's Office was imprisoned. The interlocutors of the publication note that the head of the department is accused of allegedly taking bribes from the wife of the Vitsebsk official and singer Ilya Smunev, who is now on the wanted list.
Interestingly, according to our information, Smunev maintained warm relations with ex-prosecutor Ramanouski.