COVID-19 In Belarus: Authorities Create "Infectious Bomb" In Hospitals And Schools
6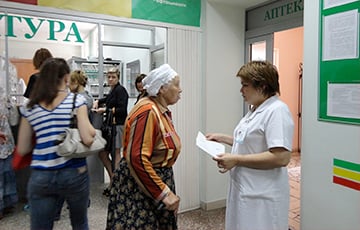 The hype has turned medical institutions into breeding grounds for the coronavirus.
Pictures of clinics with unprecedented queues of parents with their children have literally flooded the Internet. People spend half a day waiting for doctors in the corridors and in the streets. Looking for an explanation, Belsat got through to Minsk Children's Polyclinic No. 16.
"I will not give any comments on the phone. The situation remains under control in any case," said deputy chief physician for medical care Sviatlana Dziaruha.
According to euroradio.fm and zerkalo.io, there could be several reasons for the agiotage in medical institutions: scheduled medical examinations of students, seasonal illnesses and the requirements of some schools to have a doctor's certificate for a good reason for missing classes.
"Given the start of the school year, but in principle it's autumn, scheduled medical examinations have begun and there is a large influx of people in clinics: someone has to sign a certificate that he is healthy, someone comes to the appointment because he is sick," says intensive care physician Rastsislau Savitski.
On September 14th the Ministry of Health stated about the fourth wave of coronavirus infection in Belarus. Yesterday it registered an anti-record of deaths - 13 people. New cases of the disease - almost 2 thousand people.
"There is only one thing our government can do: to prepare beds, beds fund. They either deploy some new beds or prepare some hospitals for re-profiling to receive coronavirus patients," says Rastsislau Savitski.
Meanwhile, the World Health Organization has suspended the approval of the Russian vaccine "Sputnik V," which is vaccinated in Belarus, until it is confirmed that the standards of production practices.
"During an inspection of one of the factories, which is a part of the Sputnik V production, it turned out that it didn't comply with the new production practices," said Dr. Jarbas Barbosa.
According to Rastsislau Savitski, official authorities are not likely to pay attention to the recommendations of the World Health Organization when it comes to vaccination with "Sputnik". In order not to get sick, the doctor reminds how important it is to follow the rules of prevention: keep a safe distance, wash your hands and wear masks in public places.