"Whole Of Belarus Looks At Workers With Hope"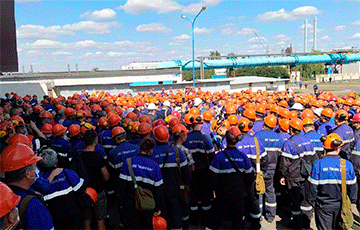 Let there be a strike!
The leader of the Belarusian Association of Workers Siarhei Dyleuski has answered the Real Belarus telegram channel on the three main questions about the strike.
Belarusians discuss the interview of the Belarusian workers' leader. The Charter97.org website quotes the reaction of Belarusian users.
"Belarusian great-power workers are the heroes of our time. The whole Belarus looks at them with proud hope."
"Glory to the Belarusian heroes!"
"Not only workers are joining in, we from the commercial enterprise have also joined the strike."
"Let's finish off the Nazi scum!"
"Let the noble rage
Boil up like a wave,
The war of the people is going on,
The holy war!!!"
"Dear workers! The whole country is looking at you, make up your mind, and we pensioners will not stay aside."
"Unity in the struggle to achieve the goals, unity of determination and readiness to sacrifice - that's when the victory over the dark hated blue-fingered one and the lackey dogs will come! Long Live Belarus!"
"We, the Belarusian diaspora in Europe are always with you! Long live Belarus!"
"Siarhei - well done! Hammer him away. And you'll see what kind of support will come."