Is Lukashenka, Who Can Barely Drag His Legs, Going "Under The Knife"?
45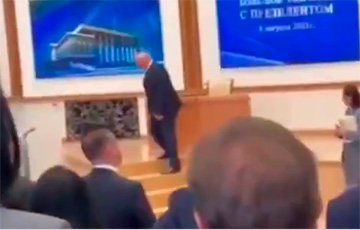 The usurper has seriously "broken down" lately.
"Information has come in that the usurper is going to have an operation in about two weeks. The surgery on the joints will cost several million dollars," writes the Drivers 97% telegram channel.
The fact that Lukashenka has already "broken down" is evident to the naked eye: he can barely walk down the ramp, dragging his leg, three-layer bags under his eyes, high blood pressure, several strokes in the last few months, diabetes, and so on down the list.
"Maybe Russia is poisoning "Sasha 37 kopecks" and that's why he is invited so often to a la negotiations, but in fact they mix in all sorts of things to him? After all, Russia is a master at eliminating the unwanted in such cases," the Telegram channel shares assumptions.