Foreign Policy: Russia Uses Illegal Immigrants Together with Belarus
8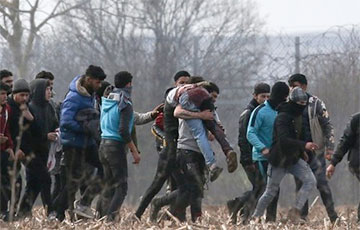 The worst-case scenario hasn't started yet.
The influential American magazine Foreign Policy has published a long article about the migration crisis on the border of Belarus and the European Union, where thousands of citizens of Asian and African countries are trying to illegally get to the West.
The article does not disclose new schemes for delivering migrants to the border. It is mentioned that Belsat was the first to tell about the operation scheme back in July. The newspaper writes about sanctions against the Lukashenka regime, and about the "stuck" migrants who are not allowed into the European Union and are not allowed back from the border by the Belarusian border guards.
However, if usually the phrases "migrants used as weapons" and "hybrid attack" concerned only the Belarusian regime in this crisis, Foreign Policy emphasizes that Russia is also taking advantage of the crisis. It is mentioned that a similar scenario was predicted back in 2018, but then it was assumed that Russia would attack Poland with a stream of illegal migration through Ukraine.
"This is a joint provocation by Minsk and Moscow," said Grzegorz Kuczynski, director of the Warsaw Institute Eurasia program. "Today Lukashenka is completely dependent on Putin, and, moreover, the Belarusian services in the Middle East do not have enough resources to carry out such an operation."
The expert warns: a real crisis will begin if the Kremlin decides to create a migration corridor through Russia to transport thousands of refugees from Afghanistan. Whether this will happen depends on the reaction of Poland, the Baltic states, and Brussels to the current "demo version" of the migration crisis, says Foreign Policy.
In a Foreign Policy commentary, Belsat director Agnieszka Romashevskaya-Guza said:
"The Lukashenka regime is massively repressing people in Belarus and will stop at nothing to destabilize Europe."
Russian and Belarusian propaganda is already presenting the EU countries as violators of human rights. In Poland and Lithuania, internal political conflicts have already begun over what to do with migrants.
Now Europe must confront the reality of hybrid attacks on the European Union and NATO in the eastern border countries, the American magazine concludes. As authoritarian regimes seek to sow internal discord and chaos in Poland and the Baltics, helpless people become their weapon of choice.