Where Did Belarusian Sugar Disappear?
9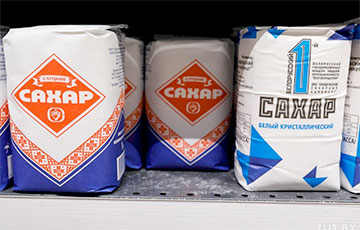 The Russian product has once again become cheaper than the domestic one.
In Belarus, there is a shortage of sugar in some stores. Meanwhile, sugar factories are starting to process beets later this year than usual. At the same time, Belarus has noticeably reduced the import and export of this product. Moreover, Russian sugar is again cheaper than domestic sugar, but it can be found in few places.
The zerkalo.io site was looking into what was going on with this product.
What is the situation with sugar in stores?
Over the past week, sugar shortages have been reported in various cities. "Sugar has disappeared from stores. This afternoon, in the Euroopt hypermarket in Navapolatsk, there was salt on the shelves instead of sugar. The same situation was the night before," said a resident of the city. There was also information about the lack of sugar from Minsk and Slutsk.
In E-delivery, for example, lump sugar is offered from sugar from beets - 1.69 rubles per 500 grams and also with mint flavor - 5.75 rubles per half a kilogram. The rest is cane. In Almi, you can buy sugar from Skidzel and Zhabinka for 1.73 rubles and under the brand Zakrama - for 1.55 rubles per 900 grams. In Hippo, they offer sugar "Extra" from Haradzeya for 1.68 rubles and from Slutsk - 1.68 rubles.
Russian sugar was found in the "Island of Purity and Taste" for 1.5 rubles per kilogram (manufacturer - Lebedyanskiy sugar plant). This retail network also has Belarusian sugar, but it is more expensive - 1.68 rubles (from Haradzeya, Skidzel, Zhabinka). They also offer "Haradzejski Extra" for 1.87 rubles.
As for Russian sugar, the authorities previously set minimum prices for it in order to curb the import of Russian sugar, which was often cheaper than Belarusian.
In general, we are not talking about a sugar deficit in Belarus but rather a shortage in some stores.
Why sugar factories started processing the new crop later than usual
This year the factories started the sugar beet processing season later, usually starting in early September. According to the Belgospischeprom, the plant in Skidzel started sugar production on 11 September, in Slutsk - on 14 September, and Haradzeya - on 18 September. Zhabinka sugar plant plans to start production on 23 September.
According to Infa-Kur'er, this is due to the heat, which affected the sugar content of the beets: it was insufficient at the beginning of the month.
In mid-September, the Slutsk Sugar Refinery reported that the enterprise had granulated sugar packaged by a kilogram and lump sugar packaged by a kilogram and half a kilogram. "The shipment is carried out every day according to the signed contracts. And if there is no sugar in some store, you need to find out the reasons from the employees of this store," the plant explained.
What is the situation with exports and imports?
In January-July, Belarus exported 87.5 thousand tons of sugar, as follows from the data of Belstat. This is noticeably less than in the 7 months of 2020 when this figure was 322.9 thousand tons. Deliveries to Kazakhstan, Kyrgyzstan, Tajikistan, Turkmenistan, Georgia, Ukraine, Lithuania have significantly decreased. The export of Belarusian sugar to Russia also decreased, but the volumes were insignificant last year as well. And they stopped supplying these goods to the Netherlands, Turkey, Montenegro, Somalia, Guinea, Italy, Israel but entered the Korean market.
For 7 months of this year, Belarus also cut sugar imports to 1.8 thousand tons (a year earlier, it was 40.4 thousand tons). Curious fact: According to Belstat, Belarus imported 930 kilograms of sugar from "an unknown country." A year earlier - 15 kilograms.