Andrei Suzdaltsev: The Entire Management System in Belarus "Leaks" Incredibly
2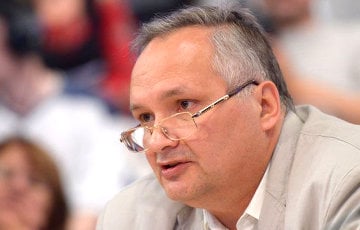 All Belarusian "schemes" to bypass Western sanctions will be promptly disclosed
Today Lukashenka complained that spies (according to Lukashenka, "scoundrels") of the "collective West" are present at Belarusian enterprises, who "knowingly and for money" inform the interested, apparently special services, about preparing ways to circumvent the imposed restrictions at Belarusian enterprises that have come under Western sanctions, writes Russian political scientist Andrei Suzdaltsev in his Telegram channel. This is all very interesting since this is one of the few cases when Lukashenka is telling the truth:
1. Indeed, at the enterprises of the Republic of Belarus, as well as in ministries, special services, and Lukashenka's inner circle, an active search is now underway for "schemes" to bypass the sanctions imposed by the West. This is not a secret, and today Lukashenka actually confirmed that such work is being carried out by Minsk. At the same time, it is worth recalling that, in this case, this kind of activity is traditional for the Belarusian establishment. For example, none of the agreements signed with the Russian Federation has escaped the fate of being bypassed. Once Minsk signed an agreement on the Russian "raw materials appendage," the group of specialists was created on the "schemes" and immediately started looking for options to bypass the obligations of the Belarusian side. And the more "cunningly" a partner from the Russian Federation was "tricked," the more pride and honor the Belarusian nomenklatura had. So Lukashenka actually confirmed that Belarus under his leadership is actively looking for an opportunity to deceive everyone;
2. Indeed, it is almost impossible to hide something in Belarus. The entire control system leaks incredibly. And any "schemes" to bypass the sanctions almost instantly become and will become known to the initiators of the sanctions. Moreover, it is worth recalling that corporations and firms that are ready to come "to the aid" of the Belarusian "partners" doom themselves to be included in the sanctions list. So the value of information about the "schemes" is colossal, but we repeat that it is impossible to close all the "leaks." There are too many people in government structures who hate the ruling regime and are looking for opportunities to harm it. And hardly any of these people, in conditions of minimal risk, will deny themselves the pleasure of throwing a "dead cat" on Lukashenka and his Junta. Considering that Belarusians are natural undergrounders, it is practically impossible to reveal the "scoundrels" and "spies."
Of course, Lukashenka can scare and threaten, but we dare to reassure him that all Belarusian "schemes" to bypass Western sanctions will be promptly disclosed with the assistance of citizens of the Republic of Belarus, who, as Lukashenka complained, "have their own civic position." And how can the Belarusian junta live with this? It's simple: they need to change the country...