Putin Convened Russian Security Council to Discuss Belarus
46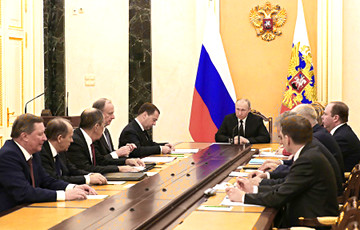 What's happening?
The Kremlin press service reported that Russian President Vladimir Putin convened on September 24 a meeting of the Russian Security Council on the topic of Belarus.
The meeting was attended by the head of the Russian government Mikhail Mishustin, the speaker of the Federation Council Valentina Matvienko, the chairman of the State Duma Vyacheslav Volodin, the head of the presidential administration of the Russian Federation Anton Vaino, the secretary of the Security Council Nikolai Patrushev, the head of the Ministry of Internal Affairs of the Russian Federation Vladimir Kolokoltsev, the Minister of Defense Sergei Shoigu, the director of the Foreign Intelligence Service Sergei Naryshkin, special representative of the President of the Russian Federation for environmental protection, ecology and transport Sergei Ivanov.
"You know that we have ended a rather serious period of negotiations on the parameters of the further construction of the "union state." Therefore, I propose to discuss this topic today. Let's get down to work," Vladimir Putin's press service reports his words.
What specific issues were discussed and what they came to, the Kremlin did not report.
But the Russian media wrote that Lukashenka flew to Sochi at about the same time.