The Lukashenka Regime Transferring Illegals in Cargo Containers?
25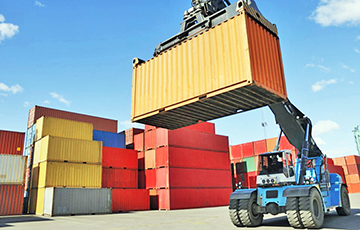 The way out of this situation is total control of goods by the EU.
Some of the illegal migrants, thrown into Europe by the special services of the terrorist regime, very successfully bypass the reinforced detachments of the Polish, Lithuanian, and Latvian border services and reach their goal - Germany, Belarus Golovnogo Mozga Telegram channel writes.
How do they manage to accomplish the almost impossible?
We have our own version of the answer to this question: some migrants are thrown in freight containers through the intermodal terminal in Malaszewicze (Poland).
It's not a secret for anyone that cargoes are checked selectively at commodity checkpoints, and the chance to slip through is huge. In addition, the Belarusian special services controlled by the dictator can cover the transfer of a container with migrants by smuggling cigarettes. Namely, to deliberately leak the information on containers with cigarettes to the Polish side and, at the same time, send a container with migrants. Polish border guards and customs officers will intercept and clear the next consignments of cigarettes, and containers with migrants will move on without hindrance.
The way out of this situation is total control of goods at the terminal in Malaszewicze or limiting its capacity until the artificial migration crisis is resolved.