Famous Belarusians On Vaccination, Actions Of Authorities Fight Against COVID-19
40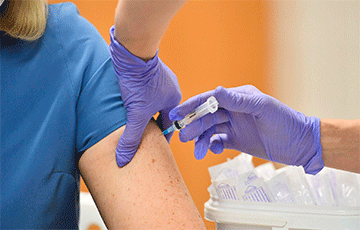 Opinions of the ex-head of the National Bank and ex-presidential candidate.
Belarus has been flooded by the fourth wave of the coronavirus. Solidarity asked the former head of the National Bank Stanislau Bahdankevich and ex-presidential candidate-2001 Uladzimir Hancharyk about their attitude to vaccination, and the actions of the authorities to combat covid.
"My friend recently passed away"
Stanislau Bahdankevich said that he was vaccinated:
- I got vaccinated, however, recently. My loved ones had been vaccinated before, I was too late, because, being a pensioner, I rarely meet with companies of people. But still I decided to be vaccinated with Sputnik V. The body did not notice either the first injection or the second.
I think that it is necessary to be vaccinated. Some vaccinations were done a thousand years ago. Refusal to vaccinate is still ignorance, you need to believe in science. The experiment has already been carried out on millions of people, what is there to be afraid of.
A lot of people die. My friend recently passed away, the day before it was 40 days. He was seriously ill with covid, was in the hospital for more than a month, as a result - a microstroke, - said Bahdankevich.
According to official statistics, less than 20% of the population in Belarus received two doses of the vaccine. This is several times less than in European countries. Why is that? Bahdankevich believes there are several reasons for the explanation.
- The head of the regime claimed from the very beginning that there was no virus in Belarus. Apparently, some were guided by him. And then there were fake statistics, underestimation of mortality. A lot of people thought that nothing terrible was happening. There was no frequent clarification that one needs to be vaccinated.
A lot of people are suspicious of Sputnik V. Therefore, it is worth purchasing not only Russian, but also Western vaccines. No need to spare money.
By the way, I do not see anything wrong with gentle and reasonable coercion so that people do not infect others. I think that people from the service sector, teachers, students, and military personnel must be vaccinated without fail. We need to motivate them somehow, - said the interlocutor of Solidarity.
Discussing the actions of the authorities, the former head of the National Bank could not ignore the socio-political situation in the country. He noted the "outrageous" level of repression and fear.
- Wild country. When did this happen in Belarus? Even under the Soviet regime, in the last decades of its existence, there was nothing of the kind, - Bahdankevich summed up.
"People behave ugly in public transport"
Uladzimir Hancharyk has a positive attitude towards vaccination against coronavirus, but has not yet been vaccinated due to health problems.
- I am in favor of vaccination, but, unfortunately, I have not yet been vaccinated for two reasons. First, there was no Chinese vaccine. I am wary of the Russian Sputnik V. From the experience of neighbors and friends, the Chinese vaccine is more easily tolerated by the body.
And secondly, my health failed a little - I had to postpone the vaccination.
But in principle, I am in favor of being vaccinated. As far as I understand, vaccination does not save you from the disease, but with it covid is easier to tolerate.
This makes me alarmed: in public transport and other places people behave ugly - many are without masks, they do not observe social distance.
This is sad: you need to take care of your health yourself, and not be careless and lax. Moreover, I observe this not only among young people, but also among older people.
And if masks are required in shops at the checkout counters, then at the entrance to the metro they often do not make any comments. I think people should at least be warned.
Although after the first stage of the fight against coronavirus in Belarus, the authorities are more sober in this matter. They bought vaccines, advertised, and redesigned hospitals.
Anyway, probably, it is worth carrying out a larger-scale campaign, instilling in the minds of people the idea that they themselves must take care of their health, - said the interlocutor of Solidarity.
He also spoke about the political situation in the country:
- Such a difficult period was perhaps during the collapse of the Soviet Union. People felt a strong insecurity in the future, this affected their attitude to life, led to drunkenness. I see something similar now: there is apathy in society, distrust to the authorities, which by their actions do not contribute to reconciliation. Violence and propaganda are incapable of solving this problem.