What Happens in the House Where the KGB Officer Shot Yesterday
18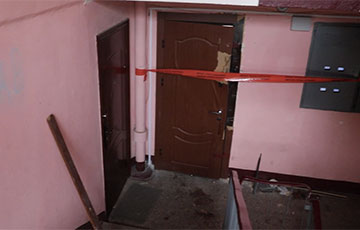 Journalists showed the stair landing near Andrei Zeltser's apartment.
Yesterday, there was a shooting in the house on Yakubowski Street in Minsk. KGB officers came to the guy. He shot one of them and was himself killed by return fire.
Radio Svaboda showed the stair landing this morning.
One can see the door sealed with two pieces of red tape, as well as a long tape stretched from the sewage pipe to the electric panel. There are traces of blood on the floor.
There are no operatives, investigators or forensic experts in the yard.
Pavel, a neighbour of Andrei Zeltser's family, says Andrei's family has lived here since the building was completed in 1982: "His grandfather used to live here. I did not know him, but I saw his wife often. She worked hard. She was home rarely".
The windows of the flat, where the shooting took place, overlook the school, where the children now quietly go to.