Lukashenka Contracted Covid-19 And Went To Spread It
58
11.01.2022, 23:30

171,864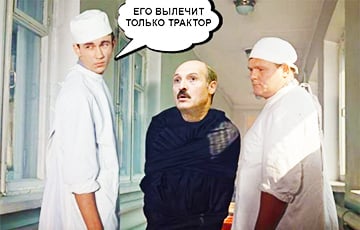 The dictator has contracted the coronavirus for the second time.
Dictator Aliaksandr Lukashenka contracted Covid-19 and went to spread it in a crowded hall.
The dictator admitted it himself at the ceremony of awarding the prize "For Spiritual Revival" yesterday.
It should be noted that the dictator was making a speech without a mask.
At the end of July 2020, Lukashenka was reportedly infected with coronavirus. Then the usurper said that he went through coronavirus "on his feet".
Charter97.org reported earlier yesterday that Lukashenka had started having problems with his voice.
We remind that in 2020 Lukashenka defiantly refused to acknowledge the danger of coronavirus and accused the deceased infected of neglecting their health. He advised to protect oneself from the infection by working in the fields ("a tractor will cure everyone"), drinking diluted alcohol, practicing winter sports, visiting a bathhouse, inhaling smoke from a campfire, and so on.