Businessman Eduard Vaitsekhovich, Who Supported Protests In Belarus, Died
7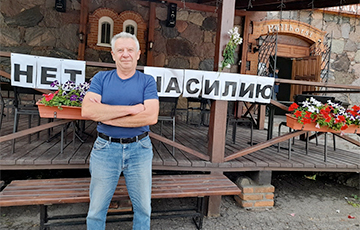 The shop he owned went on strike in 2020.
Businessman Eduard Vaitsekhovich died on the night of 11 to 12 January. This was reported in social networks by his friends, zerkalo.io reported.
Eduard Vaitsekhovich was born in the village of Kamarova, Miadzel district. After graduation, he returned to his homeland and became director of the local college (now the Svirsk Agricultural Professional Lyceum). In 1991, it took the first place in the republic among vocational educational institutions.
Later he was vice-chairman of Miadzel district council on enterprise development. In 1995 he became a deputy of the Supreme Soviet of the 13th convocation. The following year Eduard Vaitsekhovich was one of the first to sign up for the impeachment of Aliaksandr Lukashenka. After that, he had problems.
"The air was cut off, and in 2002, the budget financing was cut," he said in an interview.
Then Eduard Vaitsekhovich set up the Centre for Rural Entrepreneurship Development and went to work there.
"We helped the entrepreneurs with advice, selection of premises and equipment: because we were working on an EU project, we had the opportunity to provide financial support. Today the incubator's output is 23 new businesses," he said.
In 2002 Eduard Vaitsekhovich established one of the first farmsteads in the republic in the former farmstead of Padkastsiolak in Astravets district, which is now one of the oldest in the country. He also organised the Kamarova - Wheel Of Days festival in his homeland.
In August 2020 he spoke out against violence; the private shop he owned went on strike for some time.