Belarusian Law Enforcers Threw Stones At Polish Border Guards Last Night
11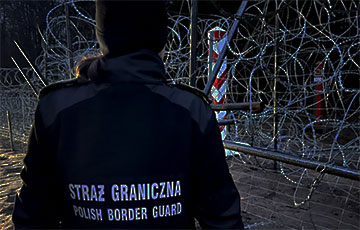 The attack took place near Czeremcha.
Polish border guards reported that at night Belarusian enforcement officers were throwing stones at them. The incident happened in the vicinity of Czeremcha. None of the Poles were injured.
Wczoraj tj.12.01 granicę🇵🇱🇧🇾próbowało nielegalnie przekroczyć 16 osób.
W tym miesiącu było 391 prób nielegalnego przekroczenia granicy z🇧🇾do🇵🇱.
Dziś w nocy na odcinku #PSGCzeremcha służby białoruskie rzucały kamieniami w polskie patrole. Nikt nie doznał obrażeń. pic.twitter.com/XP3CtHLuyB

— Straż Graniczna (@Straz_Graniczna) January 13, 2022
In addition, on January 11, a group of 15 illegal migrants from Iraq managed to cross the border. The migrants tried to hide and spend the night in a farm building, but were found and detained by the Polish side.
Nagranie z pojazdu obserwacyjnego Straży Granicznej.

Grupa 15 nielegalnych imigrantów-obywateli Iraku, przekroczyła granicę we wtorek 11.01 na odcinku #PSGMielnik Cudzoziemcy próbowali się ukryć w zabudowaniach gospodarczych. Wszyscy zostali zatrzymani.#zgranicy #PJN pic.twitter.com/lE9o6zt5FG

— Straż Graniczna (@Straz_Graniczna) January 12, 2022
Last day 16 people tried to cross the border from Belarus into Poland illegally (in the previous day - 68). In January, the Polish side has already counted 391 attempts to enter Poland illegally from our country.