Lithuanian Seimas Representative: Chances to Bypass Potash Transit Ban Equal to Zero
1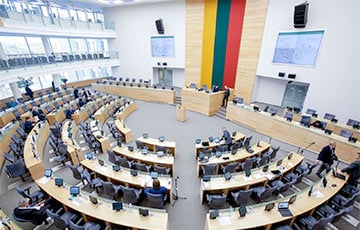 He also called for the harmonization of U.S. and EU sanctions.
The head of the Committee for National Security and Defense of the Seimas of Lithuania, Laurynas Kasčiūnas, said on air of Belsat that any private company, willing to transport Belarusian fertilizers through the territory of Lithuania, had to first apply to the parliamentary commission.
Laurynas Kasčiūnas notes that the chances of circumventing the ban on the transit of Belarusian fertilizers in Lithuania are almost zero since any company (including private) would have to first apply to the parliamentary commission for permission, while the commission considers such a transit a threat to national security. Kasčiūnas confirmed that the head of Lithuanian Railways had lost his position precisely because the contract with Belaruskali had failed to reach the parliamentary commission.
"He was a good director. He did everything to increase the profit of his company. However, he did not take into account the national security issues," added Laurynas Kasčiūnas.
That said, Kasčiūnas cannot rule out that private companies from other Baltic states may try to do something to circumvent the sanctions. "The state of Latvia won't do it, but private companies may have an interest ... There are nuances. That's why it's better if the sanctions are harmonized at the EU level."