"Opposition's Duty To Belarusians Is To Work Out Victory Plan"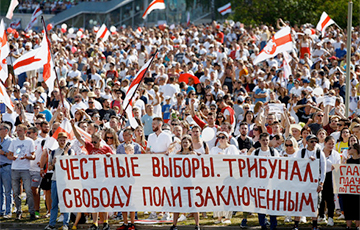 There is a demand in society for a new consolidation of democratic forces.
Political scientist and popular YouTube blogger Dzmitry Balkunets held a discussion on his channel titled "How to Win? Towards Changes".
The strategy of changing the situation in the country was discussed during the live broadcast by Andrei Sannikov, leader of the European Belarus civil campaign, former Deputy Minister of Foreign Affairs, presidential candidate, and Valeryj Tsepkala, presidential candidate, former Deputy Minister of Foreign Affairs, founder of the Hi-Tech Park.
Both politicians are initiators of the conference of democratic forces of Belarus, which is to become a platform for discussing the transit of power and ways of development of the country.
Valeri Tsepkalo believes that one of the main objectives in creating such a platform is to prevent the emergence of "Lukashenka 2.0":
- As for the establishment of the association of democratic forces, I think it is simply necessary for us now, there is a huge need for this in the Belarusian society.
And this enormous need exists in order to pay tribute to those leaders, who fought and are still fighting in Belarus, as well as abroad. Unfortunately, there are prisons in Belarus now. But it's nevertheless a struggle that is being done by Statkevich, Seviarynets, Viktar Babaryka. We have to keep in mind these people; we have to keep reminding the Belarusian society who actually started this whole thing and who really wants democracy.
We do not want Lukashenko-2.0, I would like to stress once again, we are not fighting against the personality of this man, although we are fighting against the personality too. We are struggling with the phenomenon of Lukashism which we see in the Central Asian republics as well and which must be defeated. We have to build a decent democratic country where we will listen to people's debates, where we will take sides, where we will consciously decide on the internal political course, economic course, social reforms, foreign policy course and lots of other things. Therefore we should sit down at a round table and say: this is how we will move, this is how the transition period will look like, let us make a consensus, let us put all cards on the table so that no one has hidden thoughts about this period, that no one has unclear plans on how it will happen. Because the Belarusians have to understand that they are struggling not for someone to be moved from one warm chair into another. Not for that the people are staying in prisons and not for that the people are continuing the struggle. They want to see a new format of relations between politicians. Therefore, I think that our initiative to organize a conference is very timely and necessary. It is necessary for the Belarusian society.
Andrei Sannikov sees the main task of the new platform in developing a plan for changing the government in the country:
- There has emerged a completely artificial, incomprehensible gap between the groups actually functioning in the opposition. Someone called them "old" and "new" opposition, which was not clear to me.
For there are people with different points of view in the old opposition and in the new one. On the other hand there is an excessive number of virtual initiatives that lead nowhere. And there is a feeling that we are losing time, that time is running out and we are retreating further and further from the very strong positions which we had in 2020, even before August, when Valeryj announced his run for presidency, when Babaryka, Tsikhanouski announced his intention to participate. And back then we were talking from a position of strength, with the people behind us. And now we owe a debt to all people of Belarus, in the sense that we have to work out what is outlined in this broadcast as a plan of victory, or a road to victory.
To do it, it seems to me, we have to add different experiences to our piggy bank. I have experience, as well as my colleagues from "European Belarus" and from the opposition, and the Belarusian National Congress, whose leader is Mikalai Statkevich, Uladzimir Niakliayeu, and many others. New people also have experience.
Valeryj has only recently joined the opposition, but I can remember that we had a conversation once before the so-called presidential campaign in 2010. And back then, I don't know whether he remembers it or not, I suggested that we should just give up on the regime, but at the time he was obsessed with the idea of HTP and so he felt it was important to implement it. It really was important. It was an invaluable experience. He is a practitioner who has built something that probably nobody in Lukashenka Belarus has built. He has succeeded somehow. It is an experience that is not in demand today and it won't be, because as of today HTP is a sharashka with convicts who give money or produce some highly intellectual products for the dictatorship. In the new Belarus it will instantly give a very strong impetus to the development of high technology industries. That is why I think this kind of thing is extremely necessary. And it is important today to have approaches which will show people that there is already a group of people, there are specialists, not necessarily those who are mentioned today. It is our responsibility to bring in specialists from different fields to make sure the country will not fail, even in purely technological terms. That is, there will be someone to work in the boiler room and to manage the macro economy. This is why such things should be discussed today, but not some projects that lead nowhere.