Lukashenka Demands To 'Mobilize Everyone'
66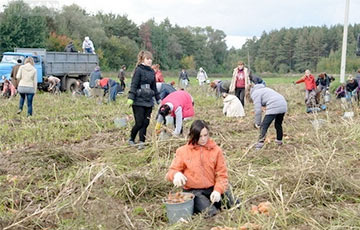 They are going to send Belarusian schoolchildren to agricultural work.
Aliaksandr Lukashenka demanded from the new chairmen of the District Executive Committees appointed on October 3 to mobilize everyone, even students, for agricultural work, his press service reports. According to the Belarusian dictator, such work is good for both parents and their children.
Lukashenka demanded that the harvesting campaign be completed in good quality and timely manner, namely, the harvesting of potatoes, sugar beets, corn for grain, and flax.
"Mobilize everyone," he said. He stressed that this applies not only to employees of agro-industrial enterprises, if necessary, but school children can also and should be involved in harvesting, and, as he was informed, in some schools it is forbidden to involve school children in such work.
"More savagery, Igor Petrovich, I cannot imagine. We are trying to raise our schoolchildren and children somehow. How are you going to do it [to raise the children - Ed.]? Chatter? Сhatter won't work," he said to the head of his Administration, Ihar Siarheenka.
The dictator believes that the experience of previous years, when teenagers and young people helped agricultural enterprises to harvest, was positive.
At the same time, human rights defenders draw attention to the inadmissibility of the use of forced labour of children.
The problem of the use of child labour in Belarus became actual after a tragic incident in the Maladzechna district several years ago. A truck ran into a 13-year-old schoolgirl in the collective farm field of the Uskhod-Agra agricultural enterprise, while picking potatoes. The girl died at the scene as a result of her injuries.