Explosions, Black Smoke Reported In Russian Air Base Area In Sevastopol
8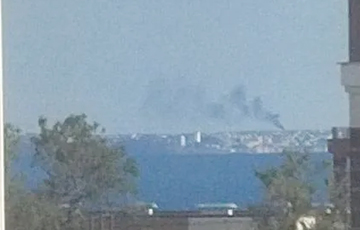 Local residents report fires in the city.
In Sevastopol, temporarily occupied by Russia, on October 5, explosions thundered and a fire broke out. The locals see black dense smoke in the northern side of the city.
The Crimean Wind Telegram channel writes about this. The authors of the channel suggest that another "bavovna" occurred in the Belbek airfield captured by the invaders.
"Again, something is burning with black smoke on the northern side of Sevastopol. Belbek airfield again? Let's check it out," the statement said.
Crimean Wind also published a photo showing smoke over Sevastopol. Presumably, the photo was made on October 5.