Maryja Kalesnikava Undergoes Surgery After Delivery To ICU
70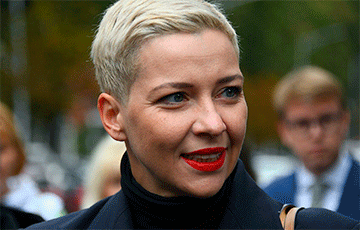 New information about the state of health of the political prisoner has been released.
Political prisoner Maryja Kalesnikava has been admitted to the intensive care unit of a hospital in Homel. This was reported on November 29 by the telegram channel of Viktar Babaryka's headquarters, citing the lawyer of the political prisoner. The colony administration said nothing about Maryja's hospitalization.
The reason for the hospitalization is unknown. According to the headquarters, an ambulance team took Maryja to the hospital on November 28. She was admitted to the first surgical unit and transferred to the intensive care unit.
A Zerkalo source said that Maryja Kalesnikava was taken to the emergency hospital. According to preliminary information, she has stomach problems. This information has not yet been officially confirmed.
Maryja Kalesnikava's lawyer Vladimir Pylchenko received confirmation from the hospital that his client is staying there.
"Masha was brought to the hospital with a surgical pathology and operated on November 28. She is now in a stably serious condition with improvement. She should be transferred to the surgical ward tomorrow," the HQ wrote.
"Maryja's lawyer was not allowed to see her in the colony for the third time in a row on November 29. Why? They explained it by the absence of her statement," the HQ reported.
Earlier it was reported that Maryja had been placed in a punishment cell. However, there was no information about the date since which she had been kept there.
As reported by those close to the political prisoner, Maryja "is in the same conditions as in the colony", although she was taken to a civil hospital. This also applies to the ban on visits.
Uladzimir Pylchanka complained to the prosecutor's office and reported his concerns about Maryja's state of health in his complaints about the refusal to allow her to see him. There was no response to the complaints and appeals from the law-enforcement authorities.
We remind you that the court sentenced Maryja Kalesnikava to 11 years of a general regime colony. She was sent from the pre-trial detention facility to the penal colony No. 4 in Homel. She was found "guilty" under three articles of the Criminal Code.