Lukashists Kill Priest Bogomolnikov On Okrestina
14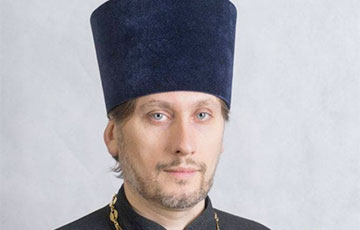 Father Vladislav's health condition rapidly deteriorated.
Siarhei Haranin, former deputy director for scientific work at the Yakub Kolas Institute of Linguistics of the Center for Research of Belarusian Culture, Language and Literature of the National Academy of Sciences of Belarus, who spent 10 days on Okrestina in early November after being rounded up in academic structures, wrote a post on Facebook full of indignation and despair. He rings the alarm regarding the health state and fate of his former cellmate, father Vladislav Bogomolnov, who has recently been sent to serve his seventh consecutive administrative term in inhumane conditions.
"Yesterday, my former cellmate, Father Vladislav Bogomolnikov, was sentenced to his seventh term on Okrestina. He serves 89 days in jail. I learned of that this afternoon.
Okrestina is not a prison, but a detention facility. Therefore, the conditions there are extremely harsh, much worse than in all other Belarusian prisons and correctional facilities. It is kind of like the guardrooms of the former Soviet army.
But one does not spend much time on Okrestina! A person cannot physically withstand such conditions. He will die. Yes, I know about the "merry-go-rounds". I also know that they spend many, many weeks there. And I've witnessed them. But three months...
Besides, Father Vladislav's health had worsened. Even when I was released he shook my hand. His hand was infirm; his fingers were thin. One could see all his bones... so it was when!!!! What about now?! Besides, he was on hunger strike...
Vladislav is a man of courage. He is holding on with dignity and strength. He supports others. They can't do anything to him. One can't accuse him of anything. Well, he served a lyceum for the novel by Bondarenko - so what? It is the pastoral duty ...
So... they are killing him. Physically. I figured it out and wrote it. I cried out in pain and horror! That's how they've been killing Mikalai Statkevich elsewhere for months...
This is how it was in medieval Byzantium - believe me, I know! They imprisoned a person, kept him in unbearable conditions (though they fed him a little), then they let him out incurably ill and a few days later he died. By himself, so to speak. And the state had nothing to do with it...
Orthodox priest Father Vladislav Bogomolnikov is being killed on Okrestina. I am a witness! Do you hear? Witness!
Hello, Orthodox priesthood! You'll be next! Hello, Your Holiness, Metropolitan Veniamin! This sin will also be yours...
The lung infections that Vladislav has now are not cured at once. I'm coughing even a month after my release. The doctor on Okrestina doesn't examine patients, but speaks to them through an ajar feeder. There is no hospital on Okrestina. The process can become irreversible.
One must speak about it, write about it, shout about it! Orthodox priest Father Vladislav Bogomolnikov is being killed on Okrestina!"