President Of Belarusian Supreme Court Is In Intensive Care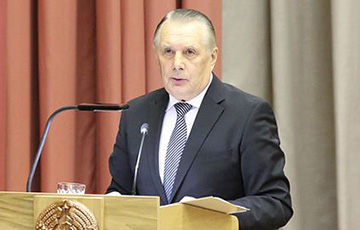 Sukala is a veteran of the judicial work of the USSR and the Lukashenka regime.
80-year-old President of the Supreme Court Valiantsin Sukala fell out of the public field due to a serious illness, and he has been in the intensive care for a long time.
As it became known to Nasha Niva, Valiantsin Sukala has not appeared at work for some time, and has been missing from the official reports of BelTA for a month.
It is reported that Sukala's health has deteriorated, and doctors are fighting for his life in the intensive care unit.
Valiantsin Sukala is a veteran of the judicial work of the USSR and Lukashenka's Belarus.
He was born in 1942 in Minsk. Before entering the Faculty of Law of BSU, he worked as a turner.
He also managed to work as the Minister of Justice of the BSSR, Deputy Chairman of the Supreme Court of the USSR. Sukala was also in the Central Committee of the Communist Party of the BSSR.
After Lukashenka came to power, Valiantsin Sukala received the post of Minister of Justice.
In 1997, after an anti-constitutional referendum, he was appointed President of the Supreme Court, and still holds this position.
He contributed to the creation of a regime of personal power and the dilution of the judicial system. During Sukala's presidency, the percentage of guilty verdicts reached 99.7, and in political cases — 100 percent. That is, it became absolutely impossible for citizens to prove their innocence in court, and the court turned into a ritual of simply printing out decisions made in advance in the law enforcement agencies.