'Mother Is Shocked': Friends Speak About Captured Belarusian From 'Wagner' PMC
23
ANDREI HERYLOVICH
3.12.2022, 9:52

32,506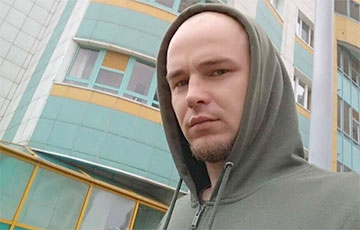 Before being drafted into the army, he worked on the collective farm "Soviet Belarus".
"We never heard that he wanted to fight. But after the Maidan, he changed his attitude towards Ukrainians," say the acquaintances of Belarusian Andrei Herylovich, who was a mercenary for the Wagner PMC. At the end of November, he was taken prisoner in Ukraine. His countrymen told zerkalo.io what could have brought the mercenary to war.
34-year-old Andrei Herylovich was born in the village of Zaspa, Rechytsa district. A settlement with a population of about a thousand people stretched along the highway from Rechytsa to Loyeu. It is 16 kilometers from the agro-town to the regional center, and less than fifty kilometers to the border with Ukraine. The famous countrymen who lived there are the poets Anatol Sys from neighboring Haroshki, and Siarhei Sys from Zaspa itself.
Locals say that in February and March they heard the sounds of war and were worried that it might come to their homes.The fact that their compatriot was taken prisoner by the Ukrainian military was unknown to most of those with whom we managed to talk.
Herylovich's mother and brother live in Zaspa. They know that he is in captivity.
"His mother is shocked by this news," one of the villagers responded.
Andrei Herylovich, before being drafted into the army, worked on the collective farm "Soviet Belarus". Then, according to his fellow soldier, he served as a signalman in Kalodzishchy and stayed on the contract. Thus he stayed on it until 2013.
From the data published by the Belarusian Investigative Center, it is known that Herylovich served as an ensign in military unit 68 473, the 86th communications brigade. After demobilization, he worked as a climber-fitter in a private company. Lived in Minsk. In 2015 he got married.
According to an acquaintance of Herylovich, the events in Ukraine, the Maidan, influenced the guy. He says that Herylovich held a pro-Russian position and did not hide it, posting relevant comments on his social media page.
It was not possible to find out how Herylovich joined the ranks of the Wagner mercenaries.
The acquaintance believes that Andrei was "morally ready to go to war," but he does not know what finally influenced his decision. He admits that it could be money. As far as his fellow villagers know, he signed a 6-month contract with the Wagnerites.
Herylovich was taken prisoner on November 20. He had the call sign Zaspa, after the name of his native village. According to the National Guard of Ukraine, Herylovich directly participated in the battles, in particular, adjusting the artillery of Russian mercenaries.
In a video released by the National Guard, Herylovich says he served in an assault squad. He criticizes his commanders and accuses them of not paying money. Herylovich also says in the video that the expiration of the contract does not mean that the contractor will be set free.