ISW: Explosions At Russian Airbases Could Thwart Russian Plans
8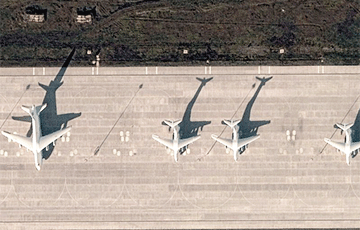 Ukraine could be hitting Russia's rear lines.
The December 5 explosions at two strategic airfields in Russia could disrupt Russia's campaign to attack Ukraine's infrastructure and power grids.
Analysts at the Institute for the Study of War (ISW) have noted this. They express the view that strikes on the Russian strategic air bases Engels-2 and Diaghilevo on December 5 could probably be carried out by the Ukrainians.
These strikes inflicted minor damage but "showed Ukraine's ability to hit Russia's rear, and possibly disrupt the campaign to strike Ukrainian infrastructure", the ISW said.
The Engels-2 airbase is located in Russia's Saratov Region, some 507 kilometres from Ukrainian territory, while the Dyagilevo airbase is in Ryazan Region, some 724 kilometres from Ukraine.
It is noted that according to reports from the Russian Defence Ministry and a number of bloggers, drones may have been used for these attacks.
Components of Russia's strategic bomber fleet are located at both airbases. These planes are used by the Russians to bombard Ukraine.
We remind you that the Ukrainian authorities have not yet officially claimed responsibility for the strikes.