Lithuanian Seimas Called For The Creation Of A Tribunal To Investigate Lukashenka's Crimes
17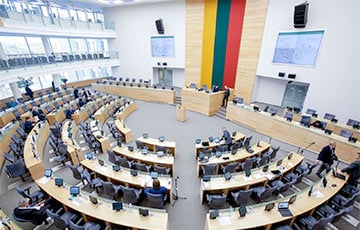 Resolution of the Lithuanian Parliament.
The Lithuanian Seimas adopted a resolution on systematic violations of human rights in Belarus.
The Lithuanian Parliament drew attention to the situation with Belarusian political prisoners:
"There are minor children among political prisoners, political prisoners are forced to wear identifying marks, they are abused, tortured, mocked, they are not provided with timely medical assistance, and lawyers defending political prisoners lose their licenses."
Lithuanian MPs called for the release of all political prisoners, including Nobel Prize winner Ales Bialiatski, Maryia Kalesnikava, Mikalai Statkevich, Pavel Seviarynets and others.
The Seimas calls for new free presidential and parliamentary elections to be held in Belarus, to stop repressions, to ensure freedom of speech and the media.
The Lithuanian parliament believes that sanctions against the Lukashenka regime and his accomplices should be expanded, and loopholes in the legislation should be closed.
The KGB, GUBOPiK and the Ministry of Internal Affairs, according to the Seimas, should be recognized as terrorist organizations.
Lithuanian MPs called for the creation of a special tribunal that would investigate the crimes of the Lukashenka regime against the people.
110 MPs of the Lithuanian parliament voted for the resolution. It is addressed to the President and the Government of Lithuania, the leadership of the European Council, the European Commission, the European Parliament, the parliaments of the countries of the Council of Europe, the EU and NATO states, the UN General Assembly, the UN Human Rights Council and the OSCE.