Two Servicemen Badly Injured During Testing Of "Reaction Force" In Belarus
23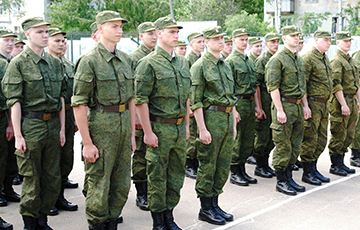 One of them is in a serious condition on life support.
A Zerkalo reader reports that in the evening of May 12, two servicemen were admitted to the Hrodna University Hospital and the Hrodna Military Hospital. According to preliminary information, they were injured while hitching up tanks or APCs. We remind you that the second stage of the surprise test of the reaction forces in Belarus began on May 10.
- They are being treated in Hrodna, - says the reader. - One of the victims has already had one lung removed. The guys were operated on last night. One of them is in the intensive care unit of the university hospital on life support in a serious condition. He's got multiple fractures, collapsed lung, intestinal trauma. Well, both bones and internal injuries. The other one's better. He is, as it seems, in the military hospital.
An employee of the Hrodna University Hospital has confirmed this information. According to him, the victim was taken to the medical facility in the evening on May 12.
- One of the soldiers has been operated in our hospital. A lung was resected. He is stable, - said the interlocutor. - It is not clear why they were brought to our clinic: military men are usually sent to the Hrodna military hospital. They say they were hit by the APC.
It is not yet known where exactly it happened. However, there is a tank firing ground near Hrodna. It is located in Hrodna district, near the agro-town of Hozha.
The journalists called the hotline of the Ministry of Defence as the conscript's parents. The officer on duty said that "he had not heard anything about the soldier" and it was "incorrect information".
- I'm telling you for sure that no one has been injured either today or yesterday at any training ground. It's bad enough that rumours are spreading in the wrong direction. Don`t worry, - said the Defence Ministry employee.
The journalists also sent a request to the press service of the ministry, but have not received an answer so far.