Belaruskali May Lose African Market
2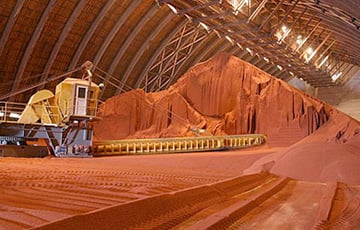 The Nigerian authorities have been forced to buy potash in Canada on an emergency basis.
Previously, the Republic of Belarus used to supply potash to this African country, reports Belarusians and the Market.
Loss of Position
The content of the potash contract between Canada and Nigeria has not been disclosed, but in May 2022 prices for potash supplies to West Africa increased by more than 250% compared to the same period last year.
Existing stocks of potash in warehouses can meet 40% of Nigeria's agricultural needs. According to Reuters, three cargo ships carrying potassium chloride from Canada are expected to arrive in May; previously it was delivered by five ships from Russia each month.
Russia's Uralkali, a major global producer of crop nutrients, has been the exclusive supplier of potash to Nigeria since 2019. It could now be replaced by Canada's Canpotex, which is owned by potash producer Nutrien.
Canada has previously explored options for exporting to other countries in Africa. For example, South Africa and Morocco. In turn, Jordan and Israel have expressed interest in supplying African countries.
Prior to the pandemic, Russia had considered the African market as a promising destination for fertiliser exports. Some supplies had been made to Benin, South Africa, Kenya and Zimbabwe.
Sanctions and logistical difficulties may result in Russia and Belarus losing the African potash market and being replaced by other suppliers - for example, Canada or Israel and Jordan.
Belarus' Potash Export to Africa
At the moment, Belarus has no statistics on the export of fertilizers, so it's hard to say how things stand with the supply of Belarusian potash to Africa.
If one takes into account the fact that exports from Belarus to Brazil have stopped, one can assume that the African supply vector is also up in the air (as it is tied to sea logistics). Most likely, given the loss of access to the port of Klaipeda, fertilizer exports to Africa have been stopped.
In addition, as Nutrien states in its report, potash shipments from Belarus and Russia decreased by 20% in the first quarter of 2022 compared to the same period last year.
Even if exports to Africa continue, they are obviously not in the same volumes. Now it is more profitable for Belarus to focus on supplies to those countries that used to buy large quantities of domestic fertilizers (for example, India and China).
It is known that our country supplied potash to Nigeria in small volumes (as compared to Russia). A large shipment of potash was sent to the African state in 2018, which brought Belarus currency revenues of $27,427.2 thousand.
In 2020, RB earned only $1,460.6 thousand from potash exports to Nigeria.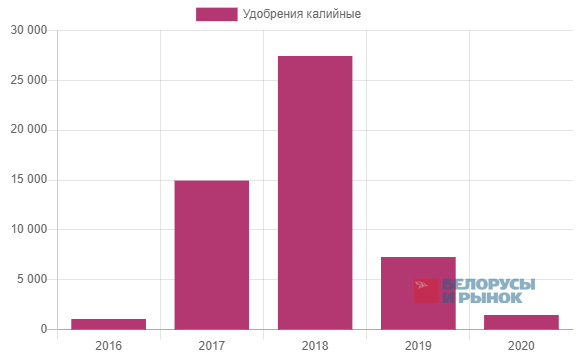 According to Belstat's open positions, the Republic of Belarus also supplied potash to such African countries as:
Angola,
Zimbabwe,
Cameroon,
Kenya,
Cote d'Ivoire,
Mali,
Morocco,
Senegal,
South Africa, etc.
According to the results of 2020, our country exported potash fertilizers to 27 African states. Potash exports to Cote d'Ivoire (USD 21,108.3 thousand) and Morocco (USD 57,148.0 thousand) generated the largest amount of currency the year before.
Export of potash fertilizers to Morocco and Cote d'Ivoire, thousand USD (source: Belstat)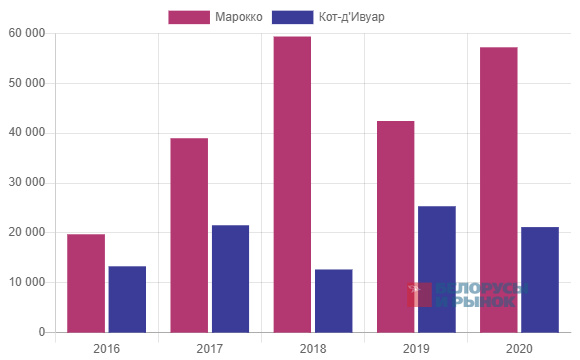 In total, in 2020, Belarus earned $123,041.4 thousand from the supply of potash fertilizers to the African countries.