Wives of Mariupol Defenders: Surgeries Carried out Without Painkillers
1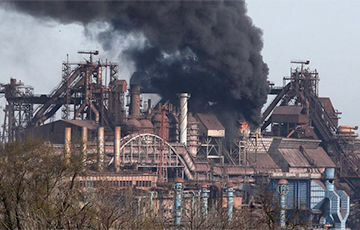 Azovstal has practically no food, water and medicines.
The wives of Mariupol defenders are calling on the international community to seek the release of the entire garrison currently stationed at Azovstal, not just the seriously wounded, as there is almost no water, food and medicine left at the plant.
The wives of heroes - Anna Naumenko, Kateryna Prokopenko, Yulia Fedosyuk, Olga Andrianova, Darya Tsikunova - told about it in an online conversation with journalists, reports Ukrainska Pravda.
"The number of wounded is constantly changing, because some die, others are added because of shelling and bombing. We know there were about 700 people - now we don't know the number...
Of course, the first thing to do is to evacuate the seriously wounded who may die in the next 24 hours, but we insist on evacuating absolutely everyone. Because it is absurd: today we are evacuating all the wounded and tomorrow we will have another two hundred wounded, because there is constant bombardment.
We must talk about evacuation, about a corridor for the whole garrison. This is the only way we can evacuate people. They are still alive, there are wounded, there are combat-ready fighters, there are bodies that need evacuation."
Details: According to the women, the situation with the wounded is "terrible" because we are talking about severe cases: missing arm or legs, broken internal organs, severe injuries. The fighters do not pay attention to minor injuries.
Antibiotics are available in very limited quantities for the most severe cases. People with amputations lie now without antibiotics and painkillers. People with severe injuries are just enduring the pain, said one of the women.
"They are now amputating limbs even with small injuries and without painkillers... They don't have any medicine. They have a glass of water for everyone - they take a sip every five-six hours," added another.
It is very hot in the room where the hospital is; there is little possibility of transferring food and water.
People have septicaemia.
The women believe "a military de-blockade is possible, but there is no time for that", because it is possible for Mariupol when other cities are liberated.
The wives of the defenders hope for the combined efforts of the Ukrainian authorities and other countries and the success of this coalition in rescuing people from Azovstal,
The women also thanked the Kalush Orchestra for their request to save Mariupol and Azovstal.