"After February 24, We Have Approximately 70% Fewer Guests."
5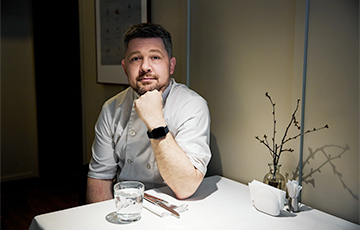 A сhef about rising prices, food shortages and prospects.
In March-April, prices for alcohol and many products increased, and some of the products completely disappeared from the price lists of suppliers. Le Gosse chef Anton Nemirovich told relax.by about the problems faced by restaurants.
The chef says the experience of the 2020 pandemic is helping today.
— Now I compare the spring of 2020 and the spring of 2022 quite well. These crises are very similar in terms of the pessimism depth. Yes, and partly by the fall in traffic, too. "After February 24, the number of our guests decreased by approximately 70%. But here is an important notation: nevertheless we are situated in the historical center. And this is a story about evening walks, relaxed breakfasts, good mood and long-awaited meetings. In general, about the feeling of happiness, which had gone at one moment. Now the situation is improving, but it is necessary to add "slightly".
According to Nemirovich, fast food feels best now. It is more difficult for sushi bars as they need seafood and, perhaps, for bakeries and confectioneries working with high-quality foreign products.
However, during the pandemic, there were no such colossal problems with the availability of products.
And it's not just that a particular product is not on the price list. The problem is that it is "insanely expensive" now.
‒ The market law that has to be accepted: in acute crisis periods, suppliers either freeze prices for a short period or greatly inflate them, laying risks there. What are the advantages of working with a local supplier? For example, the meat processing plant used to sell meat at 29 rubles per kilogram, and still sells it, nothing has changed. I think that their prices, of course, will still be adjusted, but there will be no global spikes. Another example is Belarusian snails from near Brest, which also did not rise in price. And like greetings from a parallel universe, a frozen cherry for 25 rubles, which used to cost 9, says the specialist.
Seasonality also leaves its sign: now there are practically no local greens, vegetables, berries, or mushrooms. Last year's beets, which are already running out, cost 2 rubles per kilogram, and a new one that appears is already being sold for 5. It concerns every product anyway. Fresh carrots may not be available for a couple of weeks in a row.
Basil, which has always cost about 20 dollars per 1 kilogram during the cold period, now costs 85 rubles. Belarusian suppliers want 100 rubles.
‒ But even if we imagine that restaurants will be ready to buy local products for any price, still, the import substitution will not work in full. The reason is simple: in general, our market does not produce much. For example, it is almost impossible to find soft goat cheese. And the demand for such a product is quite narrow. Therefore, there is no hope that someone will now decide to invest in farming. "So, my opinion is clear: in the coming years, the local market will not be able to meet the demand," says the chef.
Fish is a specific case. Salmon prices have exploded.
‒ How to replace it? This is a rhetorical question, but there is still only one trout farm in Belarus. Trout is similar in taste to salmon but is completely lean. At the same time, its price is now almost two times less. Is this "grocery problem" interesting for chefs? Will they take the challenge? Not for me. Everything ingenious is born in happiness, not in convulsions.
The chef is not very optimistic about the near future.
- Nevertheless, there is a reason to smile: the season of summer terraces, vegetables, berries, mushrooms, sangria is ahead... We still have local beef. Yes, it is low-fat, but we learned to cook it more or less. The only dream remains, that restaurants will be officially allowed to purchase products from the market. It would be salvation, according to him.