Barysau Hospital Forced To Waste $12,000 On State Propaganda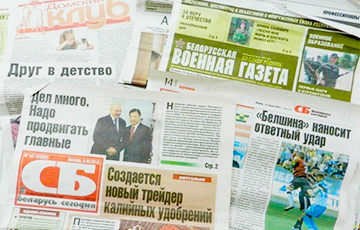 There is not a single medical publication in the compulsory subscription.
The Barysau Central District Hospital requests 29,699.70 rubles from the budget for its needs. Alas, the funds will not be used to treat patients, not to purchase new equipment or necessary medicines. And not even for salaries, bonuses and other incentives for labour stimulation of their medical workers, according to the ex-press.by web publisher.
A considerable amount will be spent on "the purchase of services for the production of printing products for the second half of 2022". An uninitiated reader may apparently think that the Barysau Central District Hospital has acquired printing equipment and is going to make printed products with it. But no, it only means the subscription of 12 structural divisions of the Central District Hospital to publications for the second half of 2022.
Of course, any self-respecting institution, regardless of the field of activity, is simply obliged to improve the skills of its employees, take care of their level of competence and promote their professional growth in every possible way. One of the ways to achieve these goals is to receive information about scientific achievements, developments, best practices, and accumulated knowledge by subscribing to relevant professional publications.
Therefore, one could assume that almost 30,000 state money will be spent by the Barysau Central District Hospital not in vain, but with sense and benefit both for the medical workers themselves and for the patients. However, there is a swing and a miss: there is not a single medical periodical among the literature requested for subscription. At the same time, there are newspapers "SB. Belarus Sehodnya", "Respublika", "Zviazda", "Narodnaya Gazeta", "Selskaia Gazeta", "Znamia Yunosti", "Minskaia Prauda", "7 Dnei", "Adzinstva". All the newspapers have a social and political and in no way relate to the specifics of activities in the field of health care.
Are there any professional medical journals and newspapers in Belarus? Yes, there are a lot of them. For example, there are 161 medical magazines and newspapers in the list of periodicals ordered by the State Institution Republican Scientific Medical Library in the first half of 2022. But none of them found a place in the application for a subscription of the Barysau Central District Hospital.
Barysau medical workers will receive 6681 "SB. Belarus Sehodnia", 3013 "Respublika", 1590 "Minskaia Prauda", 780 "Adzinstva" and other newspapers by the end of this year, and they will learn absolutely nothing in the field of their professional skills. But they will be aware of the "correct" line of state policy and will know the "correct" news about social life.