"Slipped" On Coin: New Details Of Destroying Occupier's Armoured Train In Melitopol
8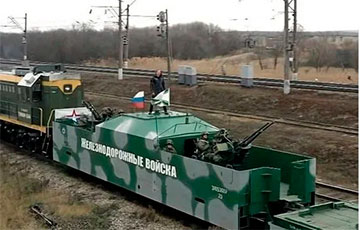 The explosion occurred for two reasons.
On Wednesday, May 18, a powerful explosion was heard on a railway track in Melitopol. As it turned out today, May 19, a Russian armoured train carrying ammunition from temporarily occupied Crimea derailed and overturned, as a result of which the ammunition detonated.
This was reported by the Zaporizhzhya regional state administration.
This happened for two reasons: the occupant's negligence and the Ukrainian coin. The Russians do not involve railway workers to service the railway in the temporarily occupied territories, but continue to operate it with overloading, which leads to accelerated wear and tear of the tracks.
The tracks in Melitopol were no exception - they were in improper condition. Therefore, representatives of the Zaporizhzhya Region Resistance Movement only needed to put a coin in order to cause the crash of the Russian invaders' armoured train - several carriages with ammunition overturned and then detonated. Two army cranes of the occupiers are working at the scene.
The Zaporizhzhya regional state administration also reminded that partisans liquidated about a hundred occupants in Melitopol Region.