"Belarusian Volunteers, Having Gained Combat Experience In Ukraine, Will Help Liberate Their Country From Dictatorship"
11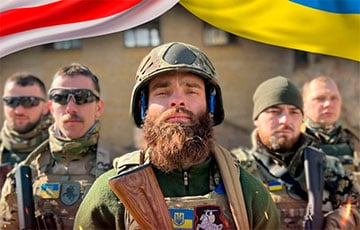 We have a historic opportunity.
In an interview with unian.net, the head of the Belarusian Crisis Center Aliaksei Frantskevich expressed the opinion that Belarusian volunteers would become the driving force behind the country's liberation from Lukashenka:
– I think that we have a historic chance: all free Belarusians to unite around Ukraine, with Ukraine, in order to defeat a common enemy. To make Belarus free and democratic after the victory of Ukraine.
I have already said and will repeat - Russia occupied Belarus. Lukashenka is Putin's gauleiter. This should be clearly understood not only by our Western partners, but also by the Belarusians themselves. Lukashenka is Putin's puppet, the puppeteer sits in the Kremlin. And now a historic moment has come for us, to unite all efforts, so that Belarusians join volunteer detachments, and Belarusian volunteers do everything possible to help Ukraine. We must consolidate and throw all our forces on a common victory in order to liberate Belarus in the future. This will come inevitably. Everyone clearly understands that without free Ukraine there will be no free and democratic Belarus.
– Are you talking about the fact that Belarusian volunteers will go home to restore order in their country after the victory of Ukraine?
– Belarusians both in the Territorial Defense and in volunteer battalions received a lot of combat, military experience on the territory of Ukraine. And when they return home, they will come to help other Belarusians to free the country from the occupiers. Belarusians will support their fellows and will start resistance at the first opportunity.