Azov Commander: We Managed To Evacuate Severely Injured Persons From Azovstal With Subsequent Exchange
5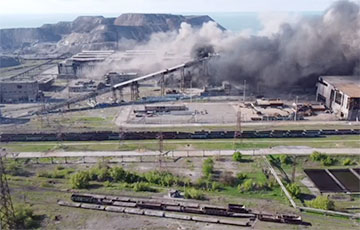 The rescue of Mariupol defenders has taken place under three crucial conditions.
Azov commander, Lieutenant Colonel Denis Prokopenko has announced the evacuation of severely wounded fighters from Azovstal and listed Ukraine's conditions under which it takes place.
Prokopenko said this in a new statement, UNIAN reported.
The top military leadership gave orders to save the lives of the garrison soldiers and to stop defending the city. Despite heavy fighting, all-round defence and lack of supplies, we constantly talked about the three most important conditions for us: civilians, wounded and dead, said Prokopenko.
"We managed to evacuate civilians, the seriously wounded received the necessary assistance - we managed to evacuate them with a subsequent exchange and delivery to Ukraine-controlled territory. As for the dead heroes - the process continues. And I hope that soon the relatives and all of Ukraine will be able to bury their heroes with honour," the military officer said about the evacuation.
On May 17, Ukraine launched an operation to rescue the Azovstal fighters. The Ukrainian Defence Ministry has not yet disclosed details of the evacuation of the wounded Ukrainian servicemen from the territory of the Mariupol plant.