Road Accident In Sharkaushchyna: Son Of Regional 'Council Of Deputies' Chairman Was Driving
16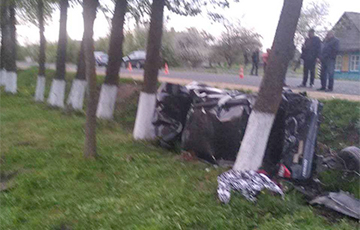 The car was moving at high speed, overturned and crashed into a tree.
In the village of Vialikaye Sialo, Sharkaushchyna district, on May 19, a traffic accident occurred involving an employee of the local Investigatory Committee. Witnesses of the accident told Belsat about this. The car, which was moving at high speed, overturned and crashed into a tree.
According to the witnesses to the accident, an employee of the Investigatory Committee and the son of the chairman of the regional "council of deputies" Uladzimir Shpets was driving. The driver and his passenger survived. There are no casualties among the villagers either. But it could be: the car, according to eyewitnesses, "moved at breakneck speed, flew into the bridge near the school, rolled over and hit a tree," 5 meters away from which children were playing.
According to the people, the authorities from the Sharkaushchyna district department of internal affairs came to the scene, but no one questioned the witnesses. It is believed that they will try to "hush up" the incident, since the father of the driver is the former head of the police department, and now the chairman of the Sharkaushchyna district "council of deputies" Uladzimir Shpets.
The journalists got through to the regional department of internal affairs of the Sharkaushchyna region. Head of the traffic police at the department of internal affairs Viktar Milaserdau did not refute the information about the accident, but redirected them for comment to the press service of the Internal Affairs Directorate of the Vitsebsk Regional Executive Committee. The press service declined to comment. All attempts to get through to the chairman of the district council Uladzimir Shpets were unsuccessful.