'Transcarpathian Legion' Destroys Russians' Command Post From NATO Weapons
10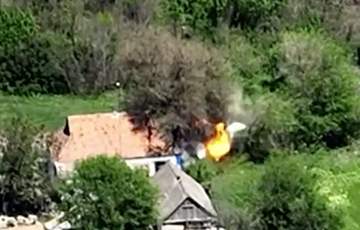 The target was over 20 kilometers away.
Artillerymen of the 128th Separate Mountain Assault Transcarpathian Brigade hit the deployment point of the commanding staff of one of the divisions of the Russian Army.
A military SUV marked "Z" and several rushists who were nearby were destroyed, according to the brigade's Facebook page.
The shot was fired from a howitzer that arrived in Ukraine as part of assistance from NATO countries.
A slow-motion video from a drone shows the arrival of a 155-caliber projectile and the moment of a powerful explosion. The target was at a distance of more than 20 kilometers, so the precise shot clearly demonstrates the high accuracy of the latest weapons that have been and continue to be supplied to the Armed Forces of Ukraine.