Halouchanka: Belarus Supplies Weapons To Russia
12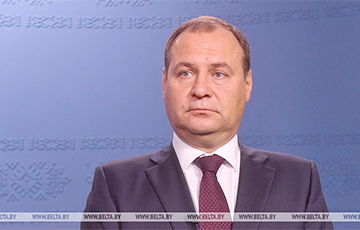 Lukashenka's "Prime Minister" just let it slip.
The "Prime Minister" of the Lukashenka regime, Raman Halouchanka, said that Belarus supplied weapons to the Russian Federation.
It is reported by Radio Svaboda.
According to the "Prime Minister", Belarusian weapons are in demand not only within the country, but also "for the needs of the Russian Federation".
Halouchanka, who headed the State Military-Industrial Committee in 2018-2020, acknowledged the difficulties with exporting products due to Western sanctions against the military-industrial complex: "Very large-scale restrictions on imports. It's no secret that we used Western components. But the military-industrial complex of Belarus is not the first year under sanctions."
According to him, to do this, the manufacturers "engaged in import substitution, strengthened ties with Russian manufacturers".
Important to note, that the regime of Russian President Vladimir Putin uses the territory of Belarus as a platform for launching missile strikes on peaceful Ukrainian cities, and deploying its military units.