EU Ambassador To Belarus: Our Demands On Lukashenka Regime Remain Unchanged
8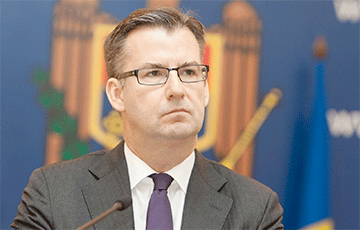 Brussels advocate new elections in our country.
Is Lukashenko guilty of war crimes in Ukraine? Was the dialogue between the West and the Belarusian dictator a mistake? How did the EU react to Makei's letter? The Charter97.org website talks about it with the EU Ambassador to Belarus Dirk Schuebel.
— Almost a year has passed since you were forced to leave Belarus. What do you miss the most there?
— I do miss Belarus, to start with. I miss it both on a professional, but also on a private level. Professionally, in the electronic age the added value of an ambassador and of a diplomat is to provide feedback on personal contacts, on personal encounters, meetings to headquarters. And this is what I cannot do right now. In Belarus itself, I miss my many meetings with Belarusian people, with civil society, with journalists, but also with the officials — that is on the professional side.
On the private side, I had made a plan: I wanted to visit as many places in Belarus as possible; and I had started and I was well on my way. And, unfortunately, I have not seen quite a few places, which I would still like to do because Belarus is a very beautiful country. I hope that I will have a chance to do that as soon as possible.
— Do you perceive the officials you've mentioned as hostages of the regime as well?
— I think the staff of every administration is heterogeneous, so there are some who seriously believe, probably, in what Lukashenka and the regime stands for. Moreover, there are others who may not be so convinced but who are more opportunistic. Therefore, I think there is no easy answer to this question.
— Let's think back to 13 August 2020, to the protesting city of Minsk. The ambassadors from the EU countries came to visit the place of the murder of Alexander Taraikovsky. What did you feel at that moment?
— It was a very emotional moment. And if I can describe my feelings, there were several at the same time. The first, which had built up from 9th of August and maybe even before, was anger. Anger, because the regime had blatantly falsified the results of the elections, and it had cracked down violently on the protests against those falsifications, which resulted in that first death among the demonstrators, of Alexander Taraikovsky.
Secondly, I felt pride to see so many ambassadors, so many diplomats joining us in visiting the place where he had been killed. It was a feeling of pride to be there all together with many of my colleagues and like-minded people.
Thirdly, it was joy. Joy to see so many Belarusians, thousands of Belarusians there applauding us and shouting "Thank you!" to us at that moment. So it was also a feeling of joy. At the same time, there was a feeling of hope that so many Belarusians stand for – a different Belarus.
— Thank you for being there at that very moment. My next question is related to the leaked letter of the Lukashenka's minister Makei where he asks about the beginning of the dialog. After August 2020, the official position of the EU is non-recognition of Lukashenka and the demand for new elections in Belarus. Does this position remain valid today?
— First of all, there are different rumours. I do not know exactly who received that letter and who didn't. I can only tell you we didn't receive such a letter. We as the EU institutions, Mr Borrell didn't receive that letter. At least we are not aware of such a letter. Others probably did. So I think you will have to ask them what they are going to do with that letter.
— So, what's the EU position?
— I think our position has been very clearly announced in the October 2020 Conclusions of the Foreign Affairs Council and that is still absolutely valid. It is valid as of today. What is included in there – our demands are clear: to stop all the repression and abuses of the human rights of persons engaged in the pro-democracy movement, independent media representatives, of civil society; to release, rehabilitate and financially compensate political prisoners; to provide safe conditions for the return of those who have been forced into exile; and also to promote a serious, credible and inclusive political process resulting in free and fair elections under the OSCE ODIHR observation; and, last, to provide guarantees for the respect for human rights, including the freedoms of opinion and expression, information, assembly, and association, as well as the freedom of media. These conditions still stand now. And these are the conditions for the improvement of our relations.
— Is there any responsibility of Lukashenka in the war crimes committed by the Russian army in Ukraine?
— We have to say that Russia has waged a totally unjustified and barbaric war on Ukraine. The invasion of Ukraine is a violation of international law, including the UN Charter, the CSCE Final Act, the Budapest memorandum, and many and many others. And this is not only our view. At the UN General Assembly on the 2nd of March 2022, 141 countries condemned Russia's aggression against Ukraine and only five voted against this [resolution] including Russia itself and, unfortunately Belarus was also among the votes against.
Russia has brought back war to Europe and the regime in Belarus has aided and enabled Russia's aggression by rendering its territory and infrastructure for Russia's military to attack and to invade Ukraine. We have also condemned this involvement of Belarus already on the 24th of February, on the day of the invasion. The European Council did condemn the involvement of Belarus. We called on Belarus to refrain from such action and to abide by its international obligations. In this context, we have also imposed sanctions on Belarusian officials who were involved in making this territory available.
Belarus allowed Russia to fire ballistic missiles from the Belarusian territory. It enabled the transportation of Russian military personnel and heavy weapons, tanks and military transporters. It allowed Russian military aircraft to fly over Belarusian airspace into Ukraine, provided refuelling points and also stored Russian weapons and military equipment.
So we needed to react to this and that we have done by a number of sanctions packages, altogether five so far on Russia which all have also a Belarusian component.
— Why are some sanctions against the Lukashenka regime not as a large scale as those against the Putin regime? Isn't there a risk of creating loopholes to circumvent the sanctions?
— First of all, I would not agree. I think our sanctions that we have adopted against Belarus in the framework of its involvement in Russia's invasion of Ukraine are considerable. The main purpose of the sanctions is to weaken the Kremlin's ability to finance the war. And our main task is in this context also to close any loopholes and any possibilities for circumvention of these sanctions. And that meant that we also needed to look into Belarus and we have done so. And we will continue doing so as long as Belarus provides its territory for the invasion.
— Lukashenka regime increases its pressure on the dissenters inside the country. Palina Sharenda-Panasiuk, a very famous activist, became the first female political prisoner in Belarus who was convicted for "malicious disobedience to the requirements of the administration" of the penal colony. What is your reaction to that?
— This is just one of many examples of blatant violations of human rights, unfortunately, which indeed continue in Belarus and, indeed, while the main focus of attention of the international community is currently on Ukraine and on the war waged by Russia in Ukraine, I can assure you that we will not forget and we do not forget the massive human rights violations that continue to take place in Belarus. The regime carries on its own war, namely, against the Belarusian society with brutal repressions against human rights defenders, journalists, political activists. The latest example is trade union activists who have been targeted now — basically, people from all walks of life have been targeted and they face completely unjustified imprisonment.
Many of the accused are tried in secret in unfair and biased trials often under fabricated charges and with no legal safeguards. We, as well as the like-minded ambassadors on the ground, observed many trials as long as we were allowed to, but for one year now we have not even been allowed to enter court rooms any longer. But we continue to follow court proceedings from outside the court buildings and we will continue doing that.
— According to data from by regime, more than 4,200 criminal cases have been initiated in relation to "anti-social manifestations". Is there an understanding that there are many more people who are in Belarusian prisons for political reasons than 1166 political prisoners, who were recognized as such by major human rights organizations?
— Yes, we are very much aware of this. It is, of course, extremely difficult to follow everything that happens, in particular, when you not anymore with full staff on the ground in Minsk and when you have no access to developments. And when all this is handled by the regime in total secrecy. We are aware that there are more than these officially announced numbers but we orient ourselves closely to the list provided by Human Rights Centre Viasna, which, we think, gives a good indication on where we stand.
We are very much aware of this and we will continue to follow the developments around each of these political prisoners. We do not forget anyone. We have a campaign ongoing on social media where we (and the likeminded diplomatic missions) publicise twice per week a case of one of these political prisoners, and we try, in particular, to support those who may not be so well known to the general public. But we are aware that there are many more and I can tell you, we will not forget anyone.
— From 2015 to 2020, the EU pursued a policy of "critical engagement" with the regime. Looking back, was it a mistake to make a bet on a "good Lukashenka"?
— I think there were never any illusions about Lukashenka as a person. Nobody had the illusion in the West that Lukashenka would become a democrat or so. However, we had every reason to believe that the authorities were interested in developing relations with their neighbours. And that was the starting point. In this context, I would like to remind also that European Union was Belarus' second trading partner with the share of almost one fifth of country's overall trade. We were the largest grant donor for Belarus.
And, indeed, we had some good bilateral relations in this period following the release of, by then, the last political prisoners in 2015. We lifted the majority of our restrictive measures. We enhanced political dialogue and we increased financial assistance, brought in the European Investment Bank and helped expand the EBRD activities in Belarus. And we negotiated also what we called the EU-Belarus Partnership Priorities, which I had the pleasure to negotiate on our side starting in 2016. And not to forget, the EU-Belarus visa facilitation and readmission agreements came into force on the 1st of July 2020.
However, obviously, this period of improved relations ended due to the drastic deterioration in the situation of the human rights in Belarus, not only on the day of the election but also in the run-up to and in the aftermath of the August 2020 elections. Then, a further worsening took place with the forced landing of a civilian airplane coming from Athens on its way to Vilnius on 23rd of May 2021. And last but not least, the instrumentalization of irregular migrants and refugees by the Belarusian regime and the humanitarian crisis, which was artificially created at the EU's external borders with the aim to destabilize the region's security and divert attention of the ever worsening human rights situation, have further contributed to the deterioration of the EU-Belarus relations.
Now there is the support of Belarusian regime to Russia in the military aggression against Ukraine. To cut a long story short, as I said, we had never had any big illusions, but we were willing to enter into good-neighbourly relations. And we thought that the regime was interested in that too.
— Ambassador Schuebel, do you think the EU has done everything possible to put pressure on the Lukashenka regime after he has clumped down the protests?
— I think we, as the EU, have been united. And we have sent a united, strong and consistent message to the Belarusian authorities. It has been a message of support to a sovereign democratic and prosperous Belarus, to the people of Belarus. And we have sanctioned the enablers of the regime in Belarus. We have also sheltered and supported those Belarusians who have been forced to leave their country. And we have increased our support for the Belarusian society. And we have stopped our financial support to the regime.
I think this has also helped to reinforce the EU's message that we are ready to support a Belarus that is sovereign, democratic and prosperous. We continue to remain ready to support a peaceful and democratic transition in Belarus and support such a transition through a variety of technical and financial means. And, as I said, this will continue in the next years in the hope of change.
— How do you see your return in Belarus?
— I do not know what the future will bring. I can only say that I stand ready to return to Minsk tomorrow if I am allowed to. And I would be very happy because I think it is important to be on the ground and to keep communication channels open.
And I hope that at the same time some changes can be brought about because if you want to strengthen the independence of your country, resilience can only be built if you have a society which is homogeneous and which is free and democratic. Therefore, I hope that such changes will come about and that I can return to a better Belarus than the one I saw when I left the country.