Action Video: Drone Kamikaze Attack On Oil Refinery In Rostov Region
86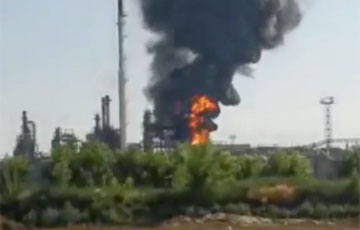 A brutal attack by the Armed Forces of Ukraine.
In the city of Novoshakhtinsk (Rostov region), an oil refinery is on fire after a drone attack.
According to the Ministry of Emergency Situations of the Russian Federation, the fire area at the refinery in the Rostov region amounted to 50 square metres.
"A fire on an area of 50 square metres occurred at the Novoshakhtinsk oil refinery in the Rostov region," the report reads.
The video on the Web shows that a drone, according to glavred.info, hit the plant.
In the published video, eyewitnesses first laughed at the drone, but after it hit the refinery, they began to scream and use foul language.
"They blew up the plant here!" shouted a voice-over.
Recall, the enterprise was previously registered with Oksana Marchenko and Natalia Lavrenyuk, the wives of pro-Russian politicians Viktor Medvedchuk and Taras Kozak, but in 2021 the refinery was sold.