Russian Missile Hit Kindergarten In Kyiv: Huge Bomb Crater
13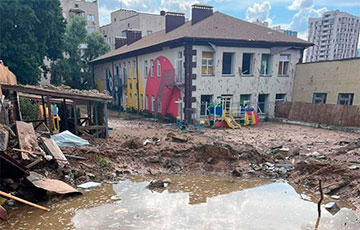 This could kill dozens of children on a weekday.
One of the Russian missiles fired by the Russian troops on Kyiv in the morning hit a kindergarten in the Shevchenkivsky District at the Polovetska Street, according to Anton Herashchenko, adviser to the Minister of Internal Affairs.
He emphasized that there is a bomb crater with a diameter of seven meters in the place of the playground.
"This is a very serious military facility: a playground... There is a huge crater at the site of the impact," writes the adviser to the Minister of Internal Affairs.
Since the strike occurred at six in the morning on Sunday, the playground was empty. "On another day, dozens of Ukrainian children would play there," Herashchenko added.
Recall that at about 06:20 on Sunday, June 26, there was the sound of several explosions in Kyiv. According to Herashchenko, a missile hit the roof of a 9-storey residential building in Lukyanivka and demolished several upper floors. One person died, five were injured, including a seven-year-old girl and a citizen of the Russian Federation.