Dmytro Yarosh: Endgame For Kremlin Dwarfs
16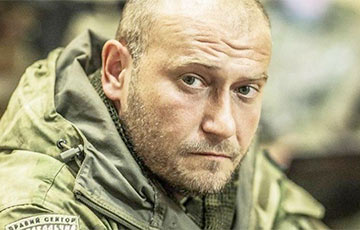 Enemies must lay down their arms and get out of sovereign Ukraine.
The Commander of the Ukrainian Volunteer Army (UDA) Dmytro Yarosh reacted to the statement of the Kremlin's spokesman Dmitry Peskov. He posted his reaction on Facebook:
– I saw another senile statement by Peskov about 'the possibility of ending the war if Ukraine lays down its arms and capitulates'...
It would seem that these stupid messages should not be paid attention to, but in fact, they say that the Kremlin dwarfs had come to their endgame.
Putin's entire campaign against our state has already completely failed: their blitzkrieg has failed; the occupied territories of the Zhytomyr, Kyiv, Chernihiv, Sumy, and parts of the Kharkiv regions were liberated; the attack on the free territories of the Donetsk and Luhansk regions, despite the fact that so-called Russian 'second army of the world' is stalled so deeply and, apart from insane losses, does not bring tangible results to the enemy; on the territory of the Zaporizhzhia, Kherson, Mykolaiv regions, the enemy has been stopped and suffers significant losses both from the combat defeat of the Armed Forces of Ukraine and from the activities of Ukrainian partisans.
The Kremlin maniac is furious with his 'successes'.
Of course, it will still be very difficult: we are losing many of the best representatives of the Ukrainian nation; orcs' missile strikes will kill children, women and civilians; the light-brown-haired bastard will still be able to capture Ukrainian cities and villages for some time, but they are gradually coming to a dead end.
The Ukrainian spirit of the eternal element and the will to win are slowly but surely breaking the back of the 'RF empire'. And it hurts it a lot.
Therefore, the individuals like Peskov are calling for an end to the war on behalf of their stupid boss.
We, Ukrainians, know that victory will be ours, so we can confidently offer the enemy our terms of unconditional surrender.
Enemies must lay down their arms and get out of sovereign Ukraine or they will be destroyed.