Shoigu's Deputy Spotted In Mariupol
2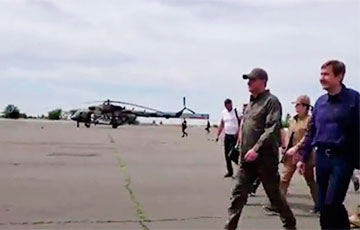 Propagandists leaked some details that may be useful to Ukrainian partisans.
Russia continues to pretend that it is engaged in the "restoration" of the cities of Ukraine captured by its troops. For the sake of a propaganda picture for RosTV, an "inspection" from the Russian Defense Minister Sergei Shoigu recently arrived in Mariupol.
This was announced by the Ukrainian adviser to the mayor of the city, politician and activist Petro Andryushchenko. In his Telegram channel, he published a fragment of a video from the visit of a Russian official.
This refers to Deputy Minister of Defense of the Russian Federation Timur Ivanov. He arrived in the temporarily occupied Mariupol allegedly with an "inspection" of the construction of fortifications in residential areas.
In the video, the propagandists showed only a part of some construction site and a motorcade of a Russian official near it. Whereas the infrastructure destroyed by the occupiers was not included in the frame.
"We know what was left behind the scenes of propaganda (and about the airport, and about the port, and about the trenches in the direction of Mangush - Nikolskoye)," Andryushchenko emphasized.
At the same time, he ironically expressed gratitude to the propagandists for showing the details of Ivanov's motorcade and the helicopter in which he arrived.