Belarusians Identify Flayer: He Pushed Swan Into Car Trunk In Vitebsk Region
32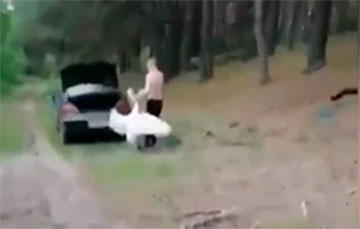 Continuation of the controversial incident.
The Basta! Telegram channel published a video of a man pushing a swan into the trunk of a car with Russian licence plates. He is holding the bird by the throat, the swan is fighting back. Finally, the man manages to drag the bird into the trunk and slam the trunk lid. According to zerkalo.io, social media users identified two men: they were residents of the Vitebsk region.
"Raman, well, let the goose go. Roman, let it go, it's not food, just, what for b***er putting this inside the Peugeot. Let it go, why do you need it, you fool," urges the man who shoots the video.
"I'll make a delicacy out of it," says Raman, and slams the trunk shut with the swan.
The Nature Conservancy Private Bird Shelter published the video on its Instagram account and asked to identify the man. Users found the names, surnames and phone numbers of the men. It turned out that they were residents of the Vitebsk region. Raman is 33 years old, the one who was holding the swan by the throat.
"I've applied to the Ministry of Natural Resources, the State Inspectorate, and the police, and wherever possible. I hope they won't get away with it. The bird is alive, it was released, so the state agencies told me," one of the shelter volunteers told Zerkalo.
According to Article 16.29 of the Code of Administrative Offences (Cruelty to animals or killing animals), the man can face a fine of 20 to 30 basic or community service or administrative arrest. According to Article 339-1 of the Criminal Code (Cruelty to Animals), the man faces up to a year of correctional labour or arrest. There is no information about whether a criminal or administrative case was initiated.