Belarus Cuts Timber Harvesting Due To Sanctions
18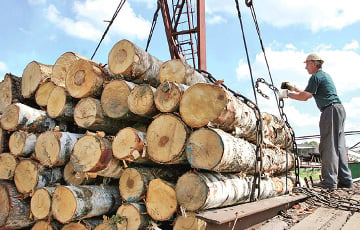 The regime suffers problems with sales.
Belarus suffers problems with the sale of timber due to sanctions. Deputy Prime Minister of the country Yury Nazarau announced this on the air of the Belarus 1 state-owned TV channel.
The Deputy Prime Minister recalled that the Belarusian timber industry was included in the sanctions lists of the EU countries.
"Accordingly, we were cut off from European markets, where we have long based our operations. We have some failures with the sale of manufactured goods components while we are rebuilding logistics. We didn't even slow down, but we optimized the volume of harvesting in order not to accumulate stacks in the fields and forests because the timber deteriorates in the stacks," Nazarau said.
According to the Deputy Prime Minister, the country now harvests and sells about 27,000 cubic meters of timber every day.
"This is the level we are holding for now. The speed of development is based on preventing damage to the technical characteristics of timber," Nazarau concluded.