Political Scientist: Lukashenka Will Be Carried Out And Buried
8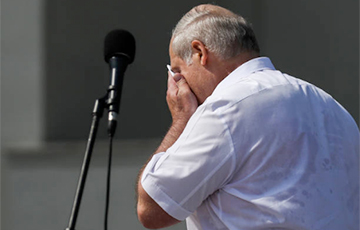 The dictator is an enemy of Belarusian independence.
Political Scientist Dzmitry Bolkunets expressed the opinion on the air of the Belsat TV channel that Aliaksandr Lukashenka took steps only to stay in power, and not to preserve Belarusian independence during the years of his rule:
"Lukashenka has never thought about the independence of Belarus. He thought about the independence of his chair, his position, and his position. He always had a chance to make Belarus independent. If he had dealt with the independence of Belarus, he would have developed an appropriate public institution and appropriate multi-vector approach. However, he was just sitting on a Russian oil and gas pipe and shaming the opposition. That's all his multi-vector approach. He is an enemy of the Belarusian independence, as he brought the situation to the point that Belarus has crossed the border of sovereignty loss."
Lukashenka also spoke about threats to Ukraine in his speech.
"I suspect that Lukashenka comprehends the entire historical essence of the current events and he understands that any involvement of the Belarusian military in the war in Ukraine will automatically lead to a war in Belarus. He also realises that then his days will be numbered. It's precisely days," the political scientist emphasised.
The Treaties on the Union State between Belarus and Russia may be invalidated since the late 1990s.
"If we proceed from the fact that Lukashenka's legitimacy has been legally unjustified since July 20, 1999, then all agreements, including those on the Union State, have no legal force. At any moment they can be legitimately called into question in accordance with international law. Given that all subsequent elections were illegitimate, held in violation of the Constitution and were not recognized by the international community, then all the agreements that Lukashenka signed on roadmaps have no legal force. Lukashenka is not eternal, his body will be carried out sooner or later and buried. There will be a new political design, and it will be completely different. Then it will be possible to bring claims against Russia for the occupation that is now taking place in Belarus," Bolkunets is convinced.