Count Aliaksandr Prushynski Died In Minsk
17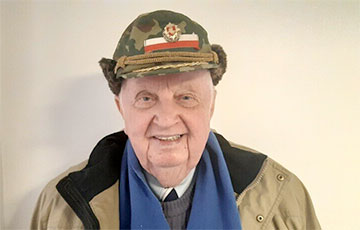 He was 88 years old.
The famous Belarusian and Polish social activist, and publisher, Count Aliaksandr Prushynski died in the 89th year of his life in Minsk. His relatives told Charter97.org that he passed away three days ago.
Aliaksandr Prushynski is the son of the famous Polish poet and diplomat Ksawery Pruszyński.
Aliaksandr Prushynski was born in 1934 in the Rahoznica estate in Hrodna region. He emigrated to Poland with his family. Later he lived in the USA, France and Canada, where he was engaged in business and publishing activities. In Canada, in 1981, under his leadership, the Słowo Solidarność magazine appeared, they reprinted articles from the Solidarność Polish edition, a weekly newspaper of the independent trade union.
He returned to Belarus in the early 90s. Count Prushinsky followed an active civil position, criticized the Lukashenka regime and participated in protests.
In 2021, 87-year-old Aliaksandr Prushynski came to the Red Church and began distributing leaflets on the occasion of the imminent Freedom Day. The brave Count was detained. But even in the police station, he chanted: "Long live Belarus!"
"Not once, not twice, not three times. I offered the police officers to take a picture with me as a presidential candidate, but they were afraid," Aliaksandr Prushynski said.
The Charter97.org website editorial office expresses its sincere condolences to the family and friends of Count Aliaksandr Prushynski.