Kalinouski Regiment Volunteer To Propagandists: We Will Meet Anyway
28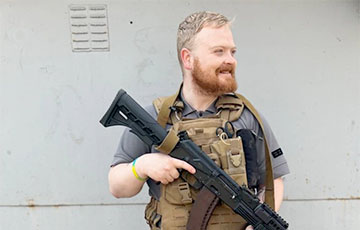 The fighter known as "Bill" spoke about the Belarusian "army of the homeless", the barricades at the Pushkinskaya metro station, and what pleasant things he found in the war.
Maksim "Bill" Prazhenik, 24, has been at war for four months. At the same time, he retains a positive attitude and outlook on events. In a long interview with Radio Svaboda, "Bill" spoke about his military service, participation in the 2020 protests, the pre-trial detention center, and why Ukrainians sometimes justifiably criticize Belarusians.
"Belarusian army is wasted time and degradation"
"Who are you, where are you from, what did you do?"
"I myself am from Minsk, I grew up in the Serabranka neighbourhood. I studied to be a builder, more precisely, as a tiler-facer, but I didn't work by profession much. I served in the Belarusian army. I worked as a mobile phone repairman."
"How did you get into the army, what did you see there?"
"I served for a year and a half in military unit 29591 in Uruchcha. The main task was to sweep the site, there was no military training. I didn't evade army service, but various eccentrics began to make fakes about me, they even forged the documents that I allegedly was an escapist. It was very funny. This is wasted time and degradation. You get dumber there, because there is nothing to do, you just have to listen to the so-called commanders all the time. It's no secret that drunkenness thrives there. Officers used to even come to work drunk."
"You once said that beautiful phrase about the "army of the homeless army". Why did you say so?"
"Because there really isn't any supply. The uniform remained from Soviet times. If something breaks and needs to be replaced, it is changed once a year. Pants are constantly in holes, you need to fix the holes all the time. It is almost impossible to get something in stock. For me, this is a big waste of time, I could accomplish a lot during this time."
"What about hazing, did it exist?"
"Probably not. But even small manifestations of it are more useful than living according to the charter. There were attempts to live completely according to the charter, but not a single person can do this."
"Is there a big difference with the Ukrainian army?"
"Well, naturally. Especially in terms of combat training. Same thing in theory. I learned more in a month in Ukraine than in a year and a half in Belarus. In the Belarusian army, I only knew how to hold a broom, and how to hold a duty. And if conscripts were taken to the shooting range, they would give three rounds, and then wash the machine gun for three hours — it's not serious. Free time happened, but if some officer saw you, there would be no free time."
"I have nothing to fear anymore"
"What was 2020 for you?"
"It all started out trite and ordinary. When the pre-election "fuss" started, I began to take an interest in things, to look for information. At that time, I worked at the Island of Cleanness as an assistant administrator, I saw the attitude of the authorities towards people, I saw the salaries. On August 9, I went out to the Heroes' Obelisk in the evening, and I saw all the outrage that was happening there. I saw how people were beaten with clubs, grenades were thrown, and I was greatly shocked. I realized that I had to try to do something. But, unfortunately, nothing happened."
"When were you first arrested?"
"On August 10 at Pushkinskaya metro station. I don't even remember well, they detained me in the yards when I was running away. I was taken to Zhodzina. They beat me during the arrest, they beat me in the back, in the buttocks, in the arms. There were a few bruises, but not all blue. They released me after two or three days, on the third night, and volunteers took me home."
"Did you build barricades?"
"Well, of course! What do I have to hide? I have nothing to fear anymore. I participated in almost all the actions, except for those when I was serving administrative arrests. Then I was detained twice more — at the end of August, and in November. They sentenced me to eight and ten days of detention then. And then there were two months in jail."
"What is this about?"
"I was sentenced to three years of liberty restriction with a referral to a specialized facility. Got arrested on the "Day of National Unity" on September 17, 2021. They detained me under Article 342 of the Criminal Code, "Organization or participation in events that grossly violate public order". They got me at the mall. The detention went "mild". They said if I run away, then handcuffs. They took me home for a search, confiscated the clothes in which I was on August 9 at Niamiha, took away my phone and passport. They took me to the Akrestsina Street detention center, and five days later a criminal case was opened."
"How was it at Valadarka?"
"I shared a cell with musician Anton Shnip, as well as with Mikita Drants. It was normal, except that I did not immediately get used to the early wake-up calls and orders."
"Did you realize that they might come for you?"
"Of course. There were moments that I was constantly expecting detention. I was leaving Belarus, and in September I came for a short time to celebrate the wedding, that's when I was detained. I lived in Moscow for a while, repairing phones. There was always work to be done, there was no time to rest. There, everyone has different opinions, but they didn't talk about politics especially."
"Upon release, did you immediately look for ways to leave the country?"
"Yes. You see, Minsktrans also gave me a fine of 3,600 rubles. I planned to leave, and I didn't plan to leave. And then a friend called, who helped with the evacuation. I left just a week later. I lived in Lviv, Aliaksei Frantskevich helped me with legalization. Lviv is a wonderful city."
"At first it was hard, but then I got used to it"
"How did you meet February 24, when the war started?"
"That day I was supposed to have a conversation in the SBU about my stay in Ukraine, about my refugee status. But the war began, and I immediately started looking for options on how I could go to war. A day or two later I found out that our guys were coming from Warsaw, and went with them to Kyiv. From February 27 I was in Kyiv. I was in Azov, and then they made their own regiment. They told me that in three days I would die, so I stood at the gas station thinking whether to go. I decided to go, because we will all die at the end of the day(laughs). It was hard at first, but then I got used to it."
"Your first task was Bucha, what did you see there?"
"Even at the entrance to Bucha, everything was broken, burned. In Bucha itself, we saw the corpses of civilians with their hands tied. Either tortured or shot. I was strongly impressed. There was more anger after that."
"What is in the minds of the Russian leadership that started the war? And the Russian soldiers who do it?"
"They probably don't have their own opinion. They believed they were going to liberate those people. They thought that everything would be easy, but everything is very, very difficult. I speak Russian everywhere, no one makes any claims to me. Even in Lviv."
"Do you think you are in the right place today?"
"So far, yes. That's where I should be."
"Can you talk about any other operations, where you took part?"
"Not yet. Everything will be published soon."
"Where does your call sign "Bill" come from?"
"When I volunteered at the Akrestsina Street detention center, I had a nickname on Vkontakte, "Uncle Bill", so started calling me "Bill". I took this nickname out of thin air."
"War is hard psychologically"
"You seem like a very cheerful and positive person. Does it help in the war?"
"Why be sad? (Laughs.) If the mood is bad, then everything may turn out bad. It is easier to go into battle with a cheerful mood."
"What is your attitude towards death?"
"I do not know. If I die, I won't even feel it, most likely. If some kind of missile comes, then such is my fate."
"What is the most difficult thing in the war?"
"Well, the war itself is a difficult thing. It's difficult psychologically. Constantly in the war zone. The information passing through you is a real hell. Sometimes it's very difficult."
"Did you know any of the Belarusians who died in the war?"
"I met Pavel "Volat" before the war, two weeks before the start of hostilities, we sat at his house and talked. He was a real warrior. He supported everyone, was a father, a brother. A great man. There are few such people in the world. At the first stage, it was difficult to bear his death. I also knew "Terror" a little."
"What is the most pleasant thing about war?"
"When you go on rotation to rest. But it doesn't always work out, because you still think about it all the time."
"Will Ukraine win?"
"I think it cannot be otherwise."
"And what about Belarus?"
"Depends on the people who are there now. They themselves must decide whether to be slaves or free people. They should not wait for someone to liberate them. You look on Instagram, and in Minsk people walk around bars, relax, and at this time missiles fly from Belarus. Apparently, people are happy with everything, so the hatred is sometimes justified.
"Does it bother you when propaganda makes films about you?"
"These idiots make me laugh. I want to give my regards to them. Sooner or later we will meet with them someplace, and they will no longer be able to talk like that."