Number Of Aircraft On Blown Saki Airfield Disclosed
11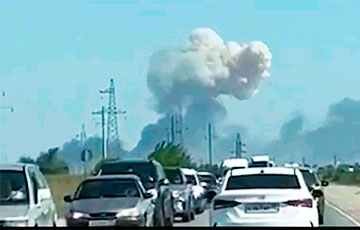 The list is long.
There was a series of explosions in the temporarily occupied Crimea on August 9. Their epicenter was the Saki military airfield of the occupiers. Now it is known how many aircraft were there at that moment.
Adviser to the Head of the President's Office Oleksiy Arestovych shed light on the number of aircraft on the airfield during the explosions in Novofedorivka on air with Mark Feygin. He noted that some of these aircraft disturbed the inhabitants of the South.
If we talk about the list of combat aircraft of the Russian Federation, then it is pretty long. Namely:
13 Su-30SM;
12 Su-24MR;
6 helicopters;
1 Il-76.
The Adviser to the Head of the President's Office also said that he has a video at his disposal that he cannot show. On it, you can see burnt enemy aircraft. Arestovich noticed live that he saw at least two Su-24-like aircraft. The video, of course, was secretly filmed from the Russian military leadership.
According to preliminary assumptions voiced during the live broadcast, there could be from 20 to 30 aircraft at this airfield. Arestovich stressed that an air regiment was based there, which instilled fear in the southerners. Now it will be more difficult to do this.
Military expert Oleh Zhdanov shared his assumptions. He noted that before the full-scale invasion of Russia, there was a different number of aircraft on this airfield. We are talking about 51 enemy aircraft.
Note that, according to preliminary information, Su-24M, Su-30SM, and Su-33 aircraft were deployed on the airfield. The types of enemy aircraft are confirmed by satellite images taken before the start of a full-scale war.