Zianon Pazniak On Tsikhanouskaya's Office Conference: What I Saw And Heard Was Terrible
133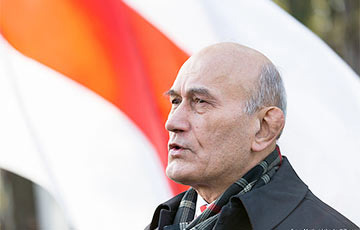 The conference was held on August 7-8 in Vilnius.
Zianon Pazniak, the leader of the oldest opposition party in Belarus CCP-BPF, commented on the conference of Tsikhanouskaya's office, which was held in Vilnius on August 8-9.
"I have selectively reviewed the talks and speeches at the August 8 Office conference in Vilnius. What was seen and heard was terrible. This is the kind of surrogate that comes to the surface when the national political class has been destroyed in the country. The group members, even in these conditions of occupation and war, again repeated all their collaborationist-Russian dogmas.
At the beginning, a fantastic video was shown, in which they reported some incredible merits of the "office", and claimed (by the way) that the group around Tsikhanouskaya had created the Kalinouski Regiment and the Pahonya Regiment (I wonder how the military themselves will take it)," writes Zianon Pazniak.
"It was said that the struggle in Belarus against the regime began in 2020, that it is necessary to hold presidential elections according to the old Lukashist legislation, and then adopt a new Constitution. At the same time, the agent "Raymond" (aka Liabedzka), who ruined independence together with Lukashenka, called himself a "Deputy of Independence", etc. Everything is based on the old projects and Moscow clichés from 2020," the politician notes.
He called the speech of the former prosecutor Aleh Talerchyk (one of the leaders of ByPol) the only reasonable speech, as he explained why it is necessary to return the legitimate Constitution of 1994, and hold not presidential, but parliamentary elections.
"Everyone pretended that Tsikhanouskaya was some kind of "legitimate person." This hectic self-deception of the collected personalities is really impressive. Collective prostration of consciousness. Everything that is built on illusions, on deceiving people, on falsehood and the imaginary "legitimacy" of Tsikhanouskaya, which does not exist in the public sense, but did not exist in the electoral sense (and which is an indisputable fact) — all this is a dead thing that will not live, but will cause harm," writes Paznyak.
"In a political sense, it would be better to liquidate this group altogether (and not play with it), because if you imagine the worst that the Kremlin manages to play this game with Tsikhanouskaya-Babaryka to the end, then Belarus will again find itself in the clutches of a new post-Putin Russia," the politician summed up.